4Knots Music Festival
Dinosaur Jr., Mac DeMarco, Those Darlins, and others
South Street Seaport, New York City, NY • 7/12/14
May Terry
Disco is dead. Hopefully history will repeat itself with our current Nu-disco wave. The nostalgic fascination with 80's retro synth is now over and I'm pining for the day when our fascination with electronic synth-pop sampled loops and auto-tuned vocal tracks finally comes to an end – at least for now. Thanks to the FREE 4Knots Music Festival at New York's South Street Seaport, my hopes remain alive. While the styles of music were a bit varied, one thing prevailed – any chintzy, vapid, and incessantly repetitive lyrics about dancing all night at "da club" and getting lucky were checked in at the door because at this event, vox, guitar, and drums ragingly ruled the day.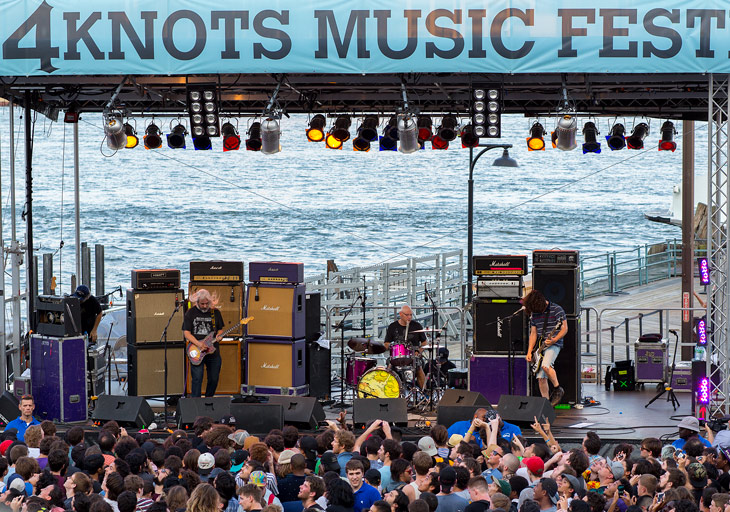 This is the fourth annual music festival from The Village Voice, New York's prime free publication covering the city beat of pop culture and local events. Ten bands were split across two main stages, a smaller stage by the high brow retail stores and restaurants on Fulton Street, and the main stage right on Pier 16, amid the backdrop scenery of the East River and the Brooklyn Bridge. The view was extraordinary on a sky blue clear and hot day. The historic ship, The Peking, docked to the right of the main stage. Those fortunate enough to have a VIP pass were given a pristine view of the headliners while partaking in the free beer, wine, vodka, and food. Admittedly, I was one of the fortunates that day.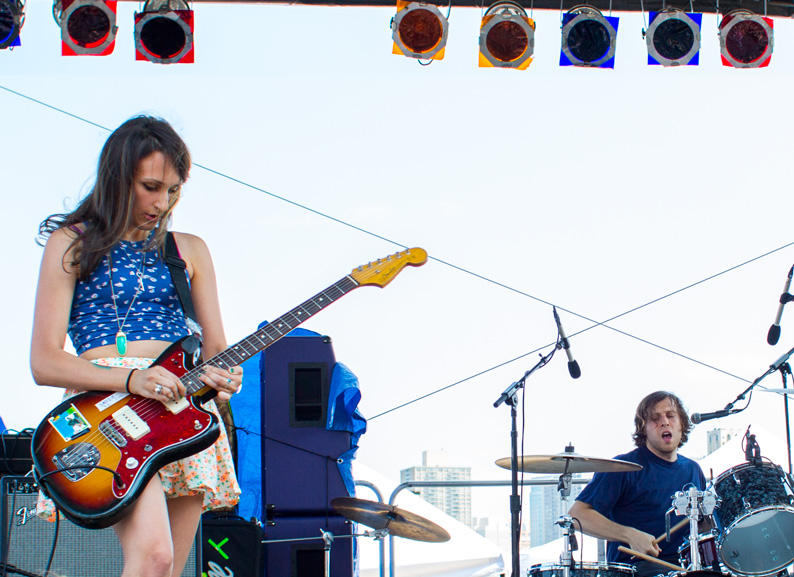 A number of bands seemed a bit derivative in style but with enough of a twist to make their songs enjoyably unique. Juan Wauters' set of out-there alternative folk songs was a bit reminiscent of Daniel Johnston with a touch of Latin American folk flavor and without the schizophrenic outbursts. Nude Beach sounded quite a bit like an even more punk pop version of Green Day, but if you loved Dookie, then these guys are right up your alley. And Speedy Ortiz gave us a great set of noise pop that recalls early Pixies and The Breeders thanks to frontwoman, Sadie DuPuis.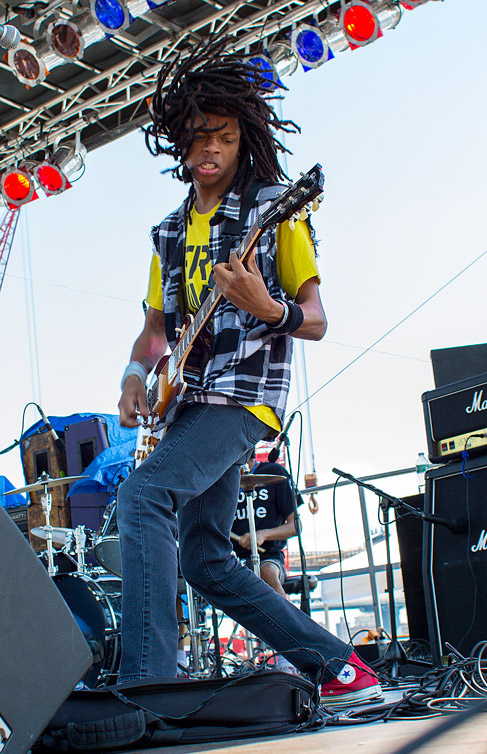 On event highlights, attendees who thought they can skip the early bands and arrive later for better headliners really lost out. Event stragglers missed a band that I would have given this year's "young gun award" – Radkey. This Misfits-like garage punk trio from St. Josephy, Missouri, played a tight adrenalin pumped set that deserved the stage jumping and crowd surfing crowd that didn't appear until late in the day. With songs like "Cat and Mouse" and "Out Here in My Head," Radkey is a powder-keg of thrash-punk that is waiting to explode.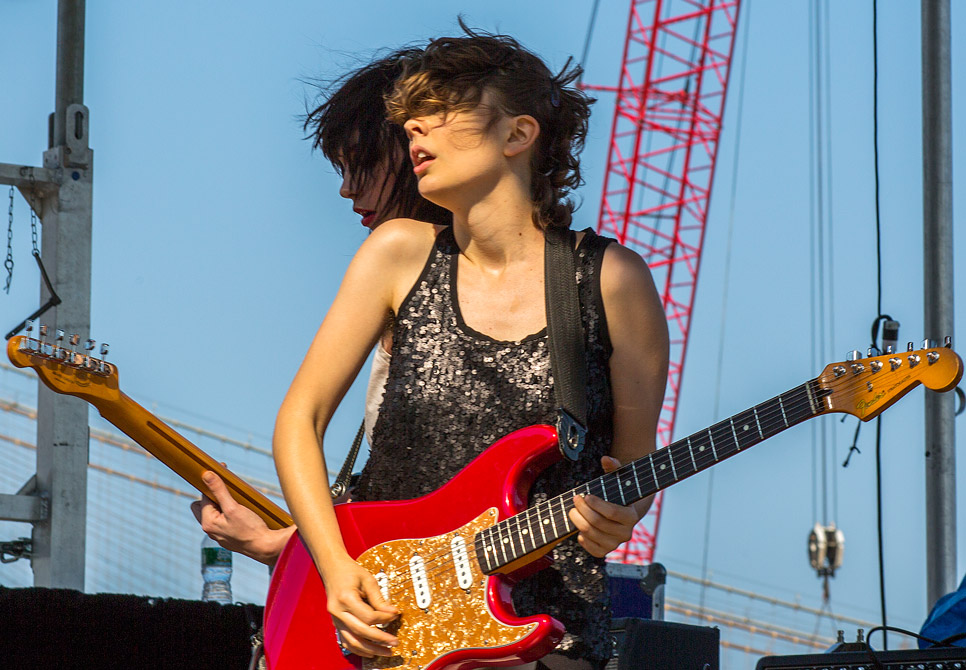 As the sun went down after pummeling the crowds with heat and humidity, staff handed out free bottles of water to the loyal fans who remained pressed up against the photo pit for hours, tired and dehydrated, but tenacious and excited about the headliners. The hearty and resilient front line received their just reward starting with Those Darlins. The girls from Nashville brought the mix of Grrl-rockabilly with a sprinkle of country and western to the festival. Twangy harmonies washed over driving guitar riffs in songs like "Screws Get Loose," "Red Light Love," and "Oh God" (from their third album, Blur the Line).
And when Mac DeMarco walked onstage to set-up his gear and do his own soundchecks, he was greeted with excited screams. And why not? DeMarco's an incredibly charismatic guy who can so woo anyone with his smooth and uber-sexy Montreal accent and fun, carefree vibe he gives while playing. Ah oui! And from the first silky chorus-affect guitar chord to the last, DeMarco drew us in like the Pied Piper to either slacker sway or crowd surf like a human beach ball with "Blue Boy" (from the recently released album, Salad Days), "The Stars Keep Calling My Name," "Cooking Up Something Good," and the hands-down fan favorite, "Still Together."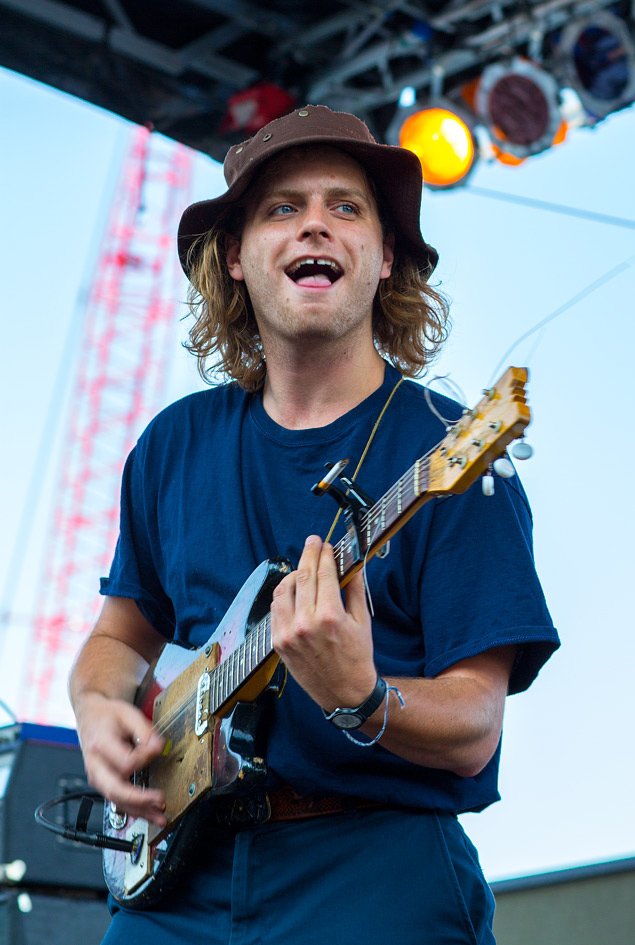 Dinosaur Jr closed the night with a ripping one-hour set that opened up a mosh pit front and center while giving fans their favorite songs that span their 30+ year career – "Pieces," "Feel the Pain," and even their cover song of the Cure's "Just Like Heaven." The somewhat narrow strip of Pier 16 by that time was packed all the way to the back kiosks that led to the cross-streets. Even if you didn't have a great view, the sound engineering was excellent. I could clearly hear the vocals at least 200 feet back into the crowds, almost to the back of the Pier by the cross-street.
Anyone who happened to be in the city and liked alternative rock to any degree was moronic to consciously not attend this free music festival. Yes, it was grueling seven hours to be out there, and I still have this ugly suntan line on my shoulder more a week later. But it was worth every UV light of burn. Make the trip out to next year's festival and wear sunscreen.
4Knots Music Festival: http://www.villagevoice.com/4knots ◼
---