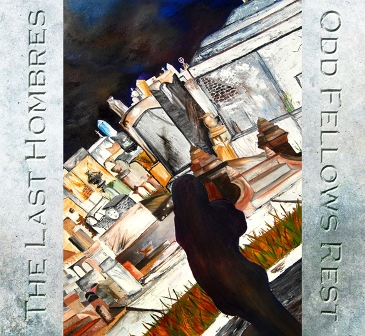 The Last Hombres
Odd Fellows Rest
Louisiana Red Hot Records
The Last Hombres have a rich and varied history in the roots rock world, at one time boasting former The Band members Rick Danko and Levon Helm. With Odd Fellows Rest, their first release in ten years, core members/songwriters include guitarists Paul Schmitz and Russ Seeger as well as bassist Michael Meehan. Also providing additional support are Chris James on Hammond B3, Wurlitzer, pedal steel and vocals, Tom Ryan on drums and the Hot 8 Brass Band contributing the NOLA-infused horn accents. Offering a melding of roots rock and country-tinged storytelling, this 13-song collection produced by Yohei Goto smacks of Bob Dylan/Bruce Springsteen Americana-style with bits of blues, country and New Orleans groove thrown into the mix.
The doleful horns of the Springsteen-esque "The Wreckage" kick off the record and set the mood for this dreamy, flowing set of songs that each tells a different tale.
More bluesy and reminiscent of Walter Trout's style with organ, horns and crisp guitar work, "Whisper" is followed by the Stray Cat Strut-sounding "Dreams," which also features Hammond B3 and horns as does "Cardinal."
Some of the more countrified tracks include "Gone Directly," "Doll's Head" and the Johnny-Cash inspired "Sin of Pride" as well as the darker "lady" songs:
"Jenny Jones" – She spoke of truth she spoke of love she didn't mean either one.
"Mae West" – When you're good, you ain't so good. When you're bad, you're better.
"Desiree," with sounds similar to a countrified The Hooters' "And We Danced" – He reached out for your hand as I reached for my gun.
"Unforgiven Man" is a brilliantly sordid story of an arrogant criminal who is about to be hanged, and he is not looking for absolution – Bow my head in shame there's nothing left to say it's all just like you say I'm an unforgiven man. Nicely rounding out the collection is "Streetlights" with more mournful NOLA brass band sounds.
With several musical and vocal styles fused together, this could have gone in varied directions, however, nothing is ever overblown but rather restrained, allowing appreciation of the collective talented musicianship and writing.
---