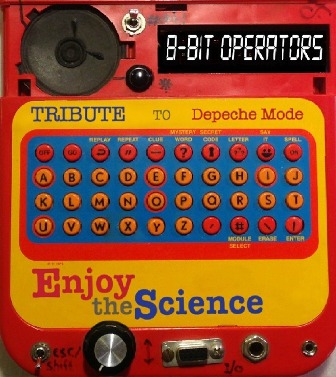 8-Bit Operators
Enjoy the Science: Tribute to Depeche Mode
Fans of 80s synth-pop/electronica kings Depeche Mode will revel in Enjoy the Science: Tribute to Depeche Mode, the latest offering from chip-tune artists 8-Bit Operators who already have garnered high praise for their prior tribute releases of The Beatles, Devo and Kraftwerk. As if DM wasn't already techno enough, this ingenious reinterpretation gives fresh life to their manufactured sound. Utilizing archaic gaming system video chips (Atari, Gameboy, Nintendo, etc.) to bend and shape sounds, the 15 innovative tracks offer a rainbow of reinvented techno DM classics spanning their lengthy musical career.
While some tracks were decidedly more enjoyable than others, there are praiseworthy highlights to denote. "Dreaming of Me" from Gameboymusicclub offers stellar vocals, with the electronica less overpowering than some other arrangements, while Inverse Phase and Helen Eugene nail "Behind the Wheel," remaining relatively true to the original vocal with some synth punk twists. Also quite exemplary are Crashfaster's "Never Let Me Down Again," with additional female backing vocals, Patokai's "New Life" and a multi-artist megamix of "Photographic." There also is an interesting non-vocal version of "Just Can't Get Enough" from Yerzmeyey that only can be described as "Ms. Pacman meets Vince Clarke," as well as a more upbeat, techno-heavy version of "Somebody" from Naomi Sample that unfortunately has the lyrics overpowered by the electronica. It is a far cry from the haunting, doleful original but an intriguing interpretation nonetheless. The real gem in this collection is "Clean" off 1990's Violator, a lesser known track, restyled here by Laker featuring ONTBG.
An affinity for chip-music is a real plus to be open to this revamped material, but if you are a Depeche Mode fan, it is worth checking out.
---