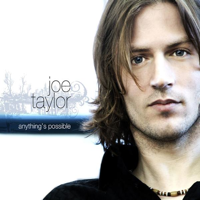 Joe Taylor
Anything's Possible
On June 29, 1989, I attended a 10,000 Maniacs concert at Radio City Music Hall with Tim Finn (of Split Enz fame) as the opening act. He had just released his third solo effort, and I was so blown away by his music and his performance that I went out and purchased his CD the next day. Now, I've never had the privilege of enjoying Joe Taylor live, but if I had (and I certainly hope to one day) there would have been the same knee-jerk reaction. His creations are chill-inducing earworms – the good kind – that stay with you long after they end, just as they should.
Canadian-born Taylor now calls New York home, and he has established himself as quite the prolific singer/songwriter. After hearing Anything's Possible, I immediately was hooked by his transcendent vocal style, which encompasses a raspy Steve Perry-like quality and a distinct tonality that stirs echoes of Mister Mister's Richard Page. Laden with beautifully penned, eloquently voiced catchy pop tunes, this 12-song collection boasts all of the ingredients for a chart-topping success. In fact, track two, "The Sweetest Tune," a dreamy, guitar-driven piece that evokes images of palm trees and aqua seas, hit number one on the Canadian Music Charts. Taylor wrote or co-wrote several of the tracks and plays acoustic guitar on many of them. The record was produced, recorded and mixed by Jeff Gross, who has worked with the likes of Gary Wright and Rick Springfield, and Grammy-award winning engineer Matthew Spindel, who also has collaborated with Springfield along with countless others including Fleetwood Mac, Tom Petty and Santana.
Taylor starts out with upbeat, crunchy stuff on "Contagious," "Sweetest Tune" and even later on with "All Around the World," but it's not just rainbows and blue skies. There are the darker, more heart-wrenchingly soulful compositions as well, including the break-up songs "Pictures Off the Wall," "Tears in Your Eyes," which is highlighted by a subtle alto sax, and the haunting "Walk Away" featuring keys and accordion to complement his off-the-chain notes.
"Tired of Waitin'" cranks with its Rufus-flavored funky groove, while cuts such as "Possible" and "New Day" offer more of a '90s Third Eye Blind/Collective Soul/Goo Goo Dolls flair.
Offering the heaviest electric guitar sound is "Here and Gone," with hints of Led Zeppelin and Beatles riffs towards the end. Their influence also can be heard on "Save Me."
In our sex, drugs and rock & roll fast-paced world, it's refreshing to hear the lyrics in "Better With Our Clothes Left On" – a song about getting to know someone before jumping in head first – And it seems so strange, but it's better with our clothes left on.
Combining stellar songwriting, soaring tones and stripped down instrumentation, this batch of material really allows Taylor's unique artistry to shine. With the rapidly decreasing amount of truly talented singer/songwriters on today's music scene, it's rewarding indeed to find a diamond among the coals.
Joe Taylor: http://www.joetaylorofficial.com
---