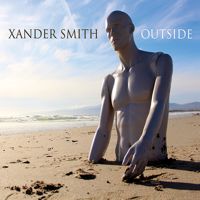 Xander Smith
Outside
Independent
With such a dearth of truly prolific singer/songwriters on today's music scene, it is refreshing to connect with Xander Smith and his wistful sophomore effort, Outside, which was co-produced by himself and Mike Harrison as was Smith's first solo record. Frontman for Los Angeles-based indie rockers, Run Run Run, Smith once again slides into the solo world with a ten-song, acoustic-based collection of Simon and Garfunkel/Nick Drake-inspired, Jack Johnson-flavored folk gems boasting catchy hooks, inspired melodies and haunting strings. In addition to lead vocals, Smith plays a variety of instruments including guitar, piano and bass, not to mention glockenspiel – the troubadours love the glock!
The intriguing aspect of this record, which actually boggles my mind (in a good way), is the inclusion of many notable musicians, among those Bernard Sumner, Stephen Morris, Tom Chapman, Phil Cunningham and Jack Mitchell, all connected to Joy Division and/or New Order, and even to Johnny Marr. I never would have imagined the 80s synth pop kings teaming up with a folk singer, but here you have it – and it works.
Kicking it all off is "Say Anything," a breakup song that smacks strongly of Simon and Garfunkel and incorporates the funky sounds of a mellotron as well as Bernard Sumner on backing vocals and melodica. Following on its heels is another track about parting ways, "Until Always," with its New York backdrop, drum-driven beat, and a touch of Smith's glockenspiel thrown into the mix – So sad I saw you, So mad I saw you, so bad don't want to say goodbye now.
The doleful, cello-driven, French-horn accompanied "Spiders" is followed by "Seventeen," a teenaged cry for help – But if you think that nothing is the matter I know you're just not listening. Heavy subject matter aside, there is a steady, upbeat flow.
"99" touts the all-too-familiar, coming-of-age tale about leaving home with mixed emotions. Kara turns up the "paint it black" so Fresno knows that she's never coming back… Kara stares at the dotted line she cries all night as we drive down 99 .
With its Eagles' "Peaceful Easy Feeling" guitar style, "Washington Square" adds a slice of countrified acoustics with additional pedal steel.
In the vein of a Johnny Cash-fueled groove and despite its drunk-driving anthemic tone, the peppier "Didsbury Bound" bounces right along, while the title cut, "Outside," looms with its ominous acoustic theme and bleak outlook.
Without a doubt, the most moving aural coup is "Lullaby," with its full orchestral arrangement, ethereal cello and lyrical hope of love and simple pleasures overcoming the ugliness in the world and the adversities of life. This has been played and replayed (and replayed again) by yours truly.
Wrapping up on a brighter note is the acoustic guitar/cello-based love ballad, "Leilana," followed by a short bonus piece, "Valencia Girl," with its Hawaiian-tinged, ukulele-colored spirit.
Smith has created a spectacular batch of nuggets with "Outside," both musically and lyrically, and with Herb Alpert as his mentor, it is not surprising. This one is a thumbs-up all the way.
---