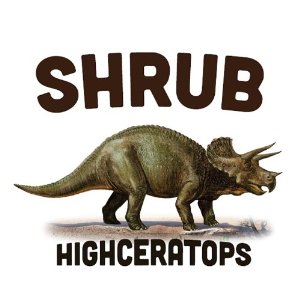 Shrub
Highceratops
Columbus, Ohio-based indie band Shrub's latest 14-track release, the shrewdly titled Highceratops, offers a fusion of reggae, rap and rock in the vein of such bands as Sublime, Slightly Stoopid, G. Love & Special Sauce and The Dirty Heads. With his unique rap/reggae free style rock sound, frontman Jay (Shawberry) Shrub is backed on this record by stellar musicians featuring drummer Daniel Zwelling, bassist/vocalist Benny Coleman and guitarists Josh Altfater and Kevin Oliver, a former member of George Clinton's Parliament-Funkadelic who hooked up with Shrub in 2013 and has contributed to solidifying this cannabis-lovin' group's upbeat, distinctively tight dynamic. To be honest, I wasn't expecting to like this record, but the first play through proved me wrong and added me as a fan. I recently had the pleasure of seeing Shrub live when they opened for the Sublime Tribute Band, Badfish, and a more high-energy, quality performance I could not have anticipated.
Kicking off the reggae-driven collection is the ska-flavored, anthemic "Go Run" featuring Jason "Lyrical" Woodard on vocals followed by the lively, harmony-laced, introspective "Fast Lane" – There's a cop on my left side. I got the devil on my right. I thought these were supposed to be the best days of my life. Woodard also contributes vocally on "Triple Play."
"Cherries" and "I Did For Us," which originally appear on Shrub's 2010 EP, Señorita, are remixed on Highceratops as "Cherries (The Lost Mix)" and "I Dub For Us (Dubatix Remix)." "Cherries" is a kick-ass nasty commentary about broken love and it's one of those songs that leaves you hitting replay. If life is a big bowl of cherries, tell me what am I doing here stuck in the pits. "I Dub For Us" has a smooth, mellow groove and some funky percussion, courtesy of Canadian mix-master Dubmatix, and it features Ohio native Jenny Flory (Wonder Twin Powers former singer) on additional vocals. With a little help on vocals from C-Money of Slightly Stoopid and Kimberly Freeman from One-Eyed Doll, "Supergirl" just makes you want to get up and dance, as do "Here We Grow Again" and "Herbivore." The record wraps with "Rolling Rock," which features another Ohio-based band, Tropidelic.
With their undeniable fun factor and incredible musicianship, I don't think it's possible to sit still while listening to Shrub. All of the cuts incorporate the kind of energetic, captivating music that people enjoy, allowing them to get lost in it – and isn't that what it's all about, anyway?
---