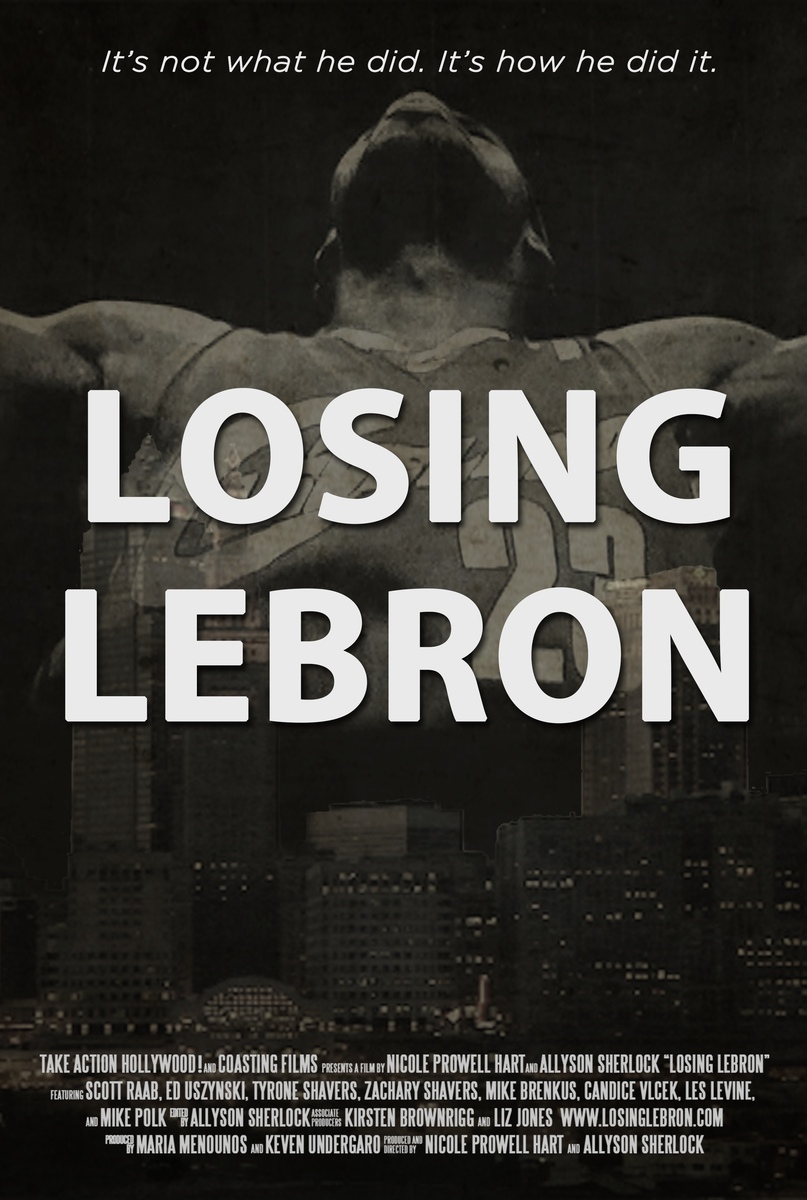 Losing LeBron
directed by Nicole Prowell Hart and Allyson Sherlock
starring LeBron James, Scott Raad, and Mike Polk
Take Action Hollywood! / Coasting Films
I'm from a losing Midwestern sports tradition, so I sympathize with the good folks of Cleveland, Ohio. Just like my home town, their teams lurked in the bottom of the stats, occasionally flickered to life and made run at some sort of championship, but always returned to the basement couch after improbable failure after failure. One diehard fan here reveals "So I'm wondering: how can we lose this one now? Will a condor swoop down and steal the ball?" So when LeBron James appears on the scene, he seems like a hometown hero that could lead the hapless Cleveland Cavaliers to the NBA finals. He got them there, and then in 2010 he bailed for the Miami Heat where he and the team won a pair of championship. What gall!
So this is a sports doc, right? Wrong. While there's plenty of sports and plenty of disappointed sports fans, there's something deeper going on here. Cleveland was once a major link in the American industrial scene, but like every factory town from Buffalo to Milwaukee its glory days are gone. Those with salable skills left, and the city became filled with crime, small pay jobs, and corroding infrastructure. Yet people remain, tied down by a love of where they grew up and love of family and friends. For these folks, emotion trumps economics. Mr. James appears in this film although only in archival footage, the film makers instead interview the fans and detractors. For his part, Mr. James is an economic miracle, and while he was loved and loved Cleveland back, he had economic interest of his own do defend. A pro sports star may only have a few years to make his money, and James's 10 year run is exceptional. But while he has ties to the town, it's hard to argue he shouldn't pursue the best deal he can get, and it's not like he's going to bring the steel mill back by sinking three pointers.
There's a resigned quality to the fans, and a bit of boosterism that uses sharp camera angles and early evening shots of neon to make some small parts of Cleveland shine. Is LeBron evil for abandoning his home town? There's something to be said for loyalty to an ideal, but I see him a free man making the best deal he can in a land where job mobility is our greatest strength. Yeah, some fans are unhappy, but there's always a complainer because they don't need to sink shots, they just coach from a bar stool. It's not like they have to get up for third shift, do they? And it not like they are Detroit.
---