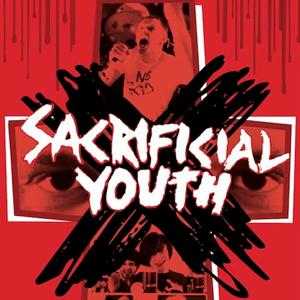 Sacrificial Youth (A Punk Musical)
directed by Joe Losurdo
starring Judd Bakker, Sam Porter, Kate Lane, Mike O'Connell
Regressive Films
You might have noticed that more time has passed since Punk began than had passed between Punk and the beginning of Rock and Roll itself. That makes principled TJ ( Rob Bakker) doubly ironic: his punk is almost as posed as Fonzie and his leather jacket recalling the 1950's in 1974. TJ is all about "The Scene", and purity and obscurity are more important than fans or record sales. But his bass player and best bud Jud (Sam Porter) books them a gig as the opener for Hellbound Boy, who are much better musicians and much better poseurs with the ability to write catchy pop tunes and sell Blüüd energy drink. In this democratically run band, TJ freaks out and turns down the $3,000 advance only to lose his friends, his cred and his scene. Only his girlfriend Maggie (Kate Lane) sticks around, and TJ never realizes scenes are temporary at best, and all you can do is hope they last another week or two.
So why would you start a DIY hardcore thrash band in 2014? After all the sound was considered "So 1996" in 2006, and what exactly can he do that's new? Choices are: treat the scene like a hobby such as Civil War re-enactment with real bullets, or go for the money and become a "Mr. T Experience" tribute band. So his choices are starvation or souls selling. Or both. Oh, yeah, that's the other thread in this charming flick: evil A&R man Max Thorne (Mike O'Connell) has a supernatural edge, and so does TJ. There's some symbolism lurking just below the surface and it all blows up in the final reel.
Whatever your take on the conclusion, this is a good, angsty teen drama that appeals no matter what decade you achieved puberty in. The story is fresh and funny and set up like a musical – people burst into song or burst into flame for no reason other than the old adage: "If you can't say it, sing it; and if you can't sing it, dance it." The characters are well-drawn if not especially complex, and everyone is clean cut, their pits don't stink, and the video was shot in a modern high def than any real punk band would be caught dead in. Watch this young man lose his beliefs, and become better for his loss.
Sacrifical Youth: http://regressivefilms.com/sacrificial-youth/
---