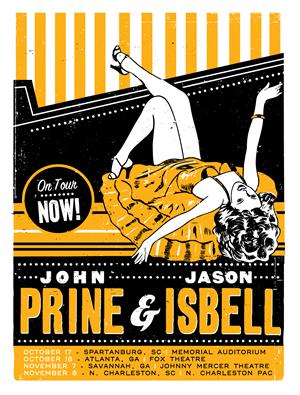 John Prine
with Jason Isbell and the 400 Unit
Fox Theater, Atlanta, Georgia • October 18th, 2014
James Mann
John Prine released his self-titled debut album in 1971, and if he had never written another song, his place atop the ranks of contemporary songwriters would have been assured by those thirteen songs contained within. Hailed as another "new Dylan", Prine seemed to emulate novelist Kurt Vonnegut instead, finding, as did the famously cynical author, a rare mix between the pathos and the absurdity of everyday life. The concert's opening song, "Spanish Pipedream" is this in spades: For I knew that topless lady had something up her sleeve–and from the opening chorus–"We blew up our TV threw away our paper/Went to the country, built us a home/Had a lot of children, fed 'em on peaches/They all found Jesus on their own"–he had the rapturous Fox Theater crowd singing along, and they continued throughout the night as one old favorite followed another.
Thankfully Prine didn't stop writing after his first album, and he drew upon his 15+ releases to form his set-list. From the poignant "Hello In There" and "Sam Stone" to later songs such as "Lake Marie" and "Humidity Built The Snowman", Prine and his great band- guitarist Jason Wilber, bassist Dave Jacques and mandolin/guitarist Pat McLaughlin- had the crowd enthralled. An early "Your Flag Decal Won't Get You Into Heaven Anymore" hit the mark as surely and sharply as it did in the aftermath of the Vietnam war–sadly, it seems to never lose it's timeliness–and is an apt illustration of Prine's unique gift, his ability to make us sing along to life's most ridiculous moments and values.
The show was opened by Jason Isbell and the 400 Unit, fresh off a winning night at the Americana Music awards show, where the former Drive By Trucker won Artist, Song ("Cover Me Up") and Album of the Year for his brilliant 2013 release Southeastern. While Prine is often humorous in his songs, Isbell isn't- his subject matter is often dark with such material as "Live Oak", a view from a serial killer, or "Elephant", his gut wrenching, heart in the throat portrayal of watching a friend die of cancer. When Isbell performed the song, it seemed strange, somehow, to applaud- for it felt as if you were eavesdropping on a private conversation. It was a spellbinding moment from probably the greatest songwriter we have now. When Prine brought Isbell onstage to duet on "Storm Windows", you could see the lineage–Isbell started performing the song in open mic nights when he was 17–and he learned well at the hands of a master.
John Prine is 68 years old, and has survived two bouts with cancer- who knows how long we'll have him. Watching the show end with his song "Paradise" (again with Jason Isbell in tow), you felt fortunate to witness an extraordinary evening of two geniuses- the once and future king, perhaps. For the 4,000+ plus in attendance, there was no where you'd rather be.
◼
---