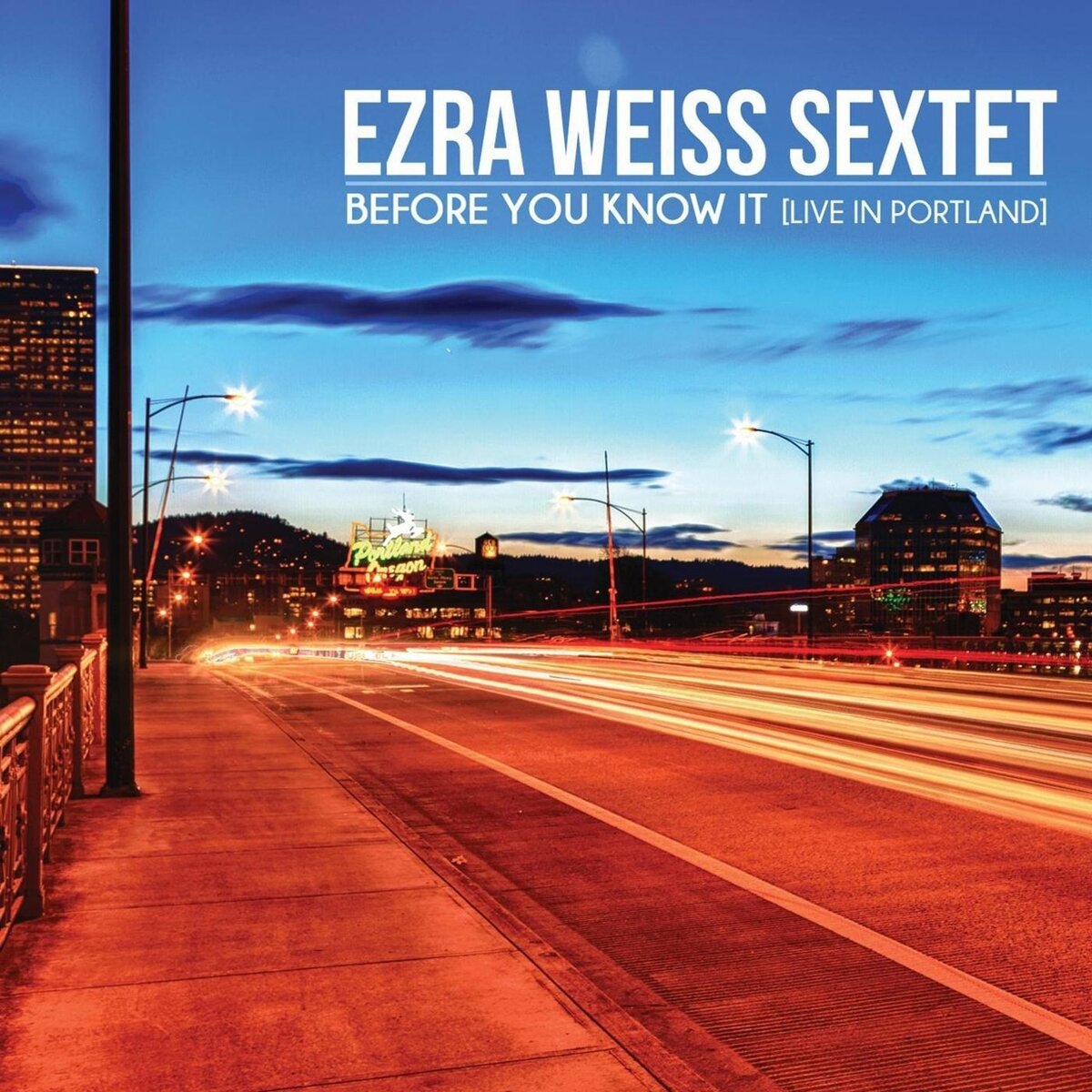 Ezra Weiss Sextet
Before You Know It (Live in Portland)
Roark Records
When you put "live" in front of a rock show disk, expect either band- in-a-drum acoustics or live takes "sweetened" with applause and inane band comments. But jazz lives in another world, "live" usually means sound as good or better than the album release, and the audience is neither miked nor inclined to do anything more intrusive than clinking their glasses or muttering "yeah, man! " under their breath. This fine concert happened in Portland (the western trendy one, not the eastern trendy one) but it could have happened in L.A. or Chicago or the International Space Station.
Weiss and his all-star troupe glide through 9 tracks, each elegant and smooth. There's "The Crusher," you might remember him as a famous 1960's wrestler on the Midwest circuit. But this track is all about brass: John Nastos on alto sax, Farnell Newton on trumpet and Devin Phillips wailing the tenor sax wrestle for the lead as they toss each other lines and themes that get amplified, inverted and tossed back. A much slower "Don't Need No Ticket" has funk roots but slows them down to 2 a.m. sadness. Another slow ride comes on the classic "Another Foggy Day," minimal drumming (Christopher Brown) under lies the omnipresent brass, while an asynchronous piano (Weiss) keeps in the shadows, emphasizing a line here, prodding a harmony there.
Weiss is generous with his stage time; you never feel that his piano is the reason for the group. Rather, they all participate equally, almost like some sort of ideal anarcho-syndicalist commune. The longest track on this collection is a 15 minute extended jam of Weiss' "5 A. M. Strut". Just like all the other tracks Weiss never feels like he's the main attraction here, it's all the talent he's pulled together and allowed them their own leads. It's jazz for the purist; the sound is studio clean and the energy is opening night of a world tour high. Be cool, be entertained.
---