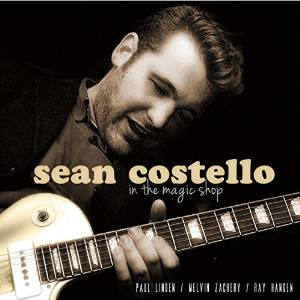 Sean Costello
In The Magic Shop
Vizztone Label Group
Sean Costello was a blues supernova. He released his first album at the tender age of 16 – (Call The Cops in 1996) and by 2008 he was dead of accidental drug overdose, most likely brought about by his bipolar disorder. But what a decade he had. He won widespread acclaim for his work on Susan Tedeschi's Just Won't Burn in 1998, and his unique melding of blues, soul and rock became stronger with each album. He was a triple threat- one of the most soulful, expressive guitarists in recent memory, a singer with considerable depth and a great songwriter.
He left an unreleased album, In The Magic Shop, and this isn't a sad scraping of demos and rejected cuts but rather a fully realized work that his short life didn't have time for. Opening with the great B.B. King signature number "It's My Own Fault", where Costello gets good and gritty, the album is 12 examples of why the Atlanta guitarist was held in such high regard. He could play anything- from the blues to Memphis soul to straight-up rockers such as Rod Stewart's "You Wear It Well", included here, which Costello gives an wistful, new take on the classic rock staple. "Hard Luck Woman" and "You Don't Know What Love Is" are prime blues grease, with Costello's soulful licks resounding.
The record ends with the Sam Cooke hit "Fools Paradise", sounding sadly prophetic- "I often think of the life I've led/And oh, it's a wonder I ain't dead"- but In The Magic Shop isn't a cause for sorrow, but rather a gift from Sean Costello, a man who will be remembered for his true artists soul, taken too soon. Play on Sean. I bet they have a juke joint wherever you are.
---