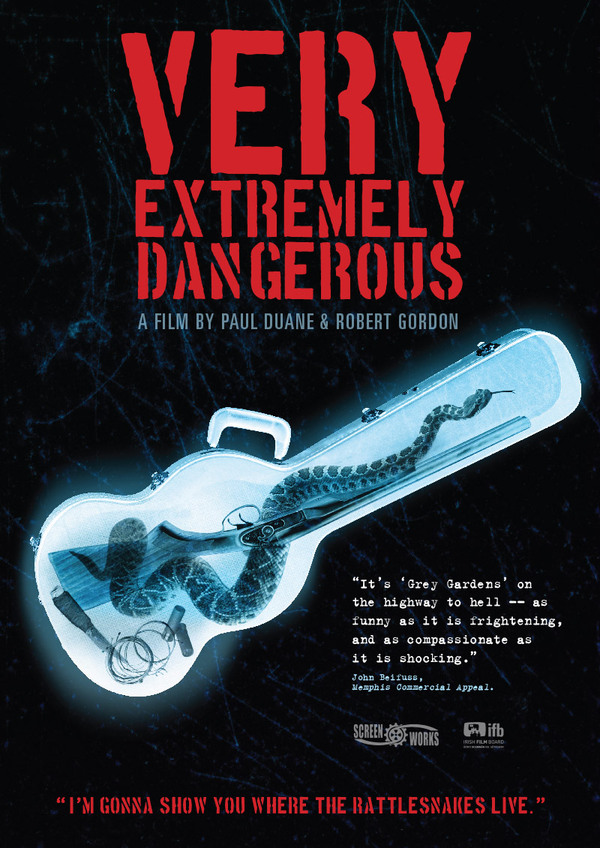 Very Extremely Dangerous
Screen Works
Filmmaker Paul Duane didn't know what he was getting into when he decided to film a few months in the life of Jerry McGill, ex-Sun Records recording artist, and career criminal.
The 70 year old McGill had recently moved to Alabama to live with a girlfriend he hadn't seen in over 40 years and was making music again. McGill released "Lovestruck"/"I Wanna Make Sweet Love" on Sun, then recorded some country soul in the '70s that might have been recorded under one of his many aliases. Now facing lung cancer, the self-destructive McGill shoots drugs, chain smokes, and drinks, bringing chaos and disorder to anyone unlucky enough to get close to him. While he can be charming, there are several harrowing scenes which make the viewer wonder why anyone would put up with him.
We want our musicians to be outlaws; people remember Johnny Cash more for one picture of him shooting a bird than the dozens of hymns he recorded. McGill is the real thing, a three-time felon who spent 13 years on the run for armed robbery. Is McGill a "dying outlaw looking for redemption" as Duane puts it, hoping to make some memorable music before dying, or just a trainwreck intent on destroying anyone close to him? The answer is a little bit of both.
After seeing McGill at his worst, there is a scene where he is scheduled for his first live show in years. He shows up drunk, without a pick. Most viewers will be cringing at this point, foreseeing McGill crashing and burning. Remarkably, once finally settled down, McGill rises to the occasion, bringing the crowd of young people to sing along to a song he just premiered.
The movie doesn't end there, however. Duane departs soon after the concert, with McGill putting off his surgery, lashing out at his girlfriend Joyce and continuing his self-destruction. A coda to the movie shows McGill cured of cancer, and transformed into a kinder, gentler outlaw. Did Joyce see this man buried deep in McGill before? Is this just a lull in the storm? Or did McGill finally get the redemption through music he was searching?
Hard to watch, yet hard to look away from, Very Extremely Dangerous is a fascinating tale of self-destruction and art, and deserves to be seen by a wide audience. The DVD comes with a CD containing most of McGill's music, including his Sun single, his interesting '70s country soul, slightly reminiscent of Charlie Rich, along with newer cuts backed by the North Mississippi All Stars. If his voice is more weathered in his recent cuts, it betrays a world-weariness and ache, betraying a tender heart wrapped in a rough exterior.
---