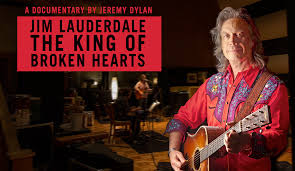 Jim Lauderdale King of Broken Hearts
directed by Jeremy Dylan
Seven Shells Media
This engaging look at one of America's greatest country songwriters and performers not only gives you highlights of the North Carolina picker, but shows Lauderdale's incredible tenacity. As Pete Anderson (producer and guitarist for Dwight Yoakam) relates in the film, at one point in the '80s, Lauderdale and Lucinda Williams couldn't get a record deal. Truly amazing in hindsight. Lauderdale signed with one label after another, only to have the records either sit on the shelves unpromoted, or never released at all. But still he kept on, writing songs and recording demos and at some point a few of his songs caught the ear of Tony Brown, legendary country producer, who placed them on the first George Strait album, and from then on the phrase "Is that a Lauderdale?" became synonymous with songwriting of the highest caliber.
Jim grew up steeped in bluegrass and traditional country, but stops along the way in New York (where he met future collaborator and friend Buddy Miller) and Los Angeles- where he became a fixture at the infamous L.A. country bar the Palomino- broadened his sound. The movie opens with Lauderdale in the desert of Joshua Tree relating his fondness for Gram Parsons and George Jones, who gave rise to one of his greatest songs, "The King of Broken Hearts". Since the early '90s, Lauderdale has consistently released stellar material, starting with Planet of Love and the masterful Pretty Close To The Truth in 1994. Along the way he's written songs with Grateful Dead lyricist Robert Hunter, made bluegrass albums with Ralph Stanley, and performed in the Elvis Costello's Sugarcane band. Through it all he stays balanced and low-key (perhaps due to his morning ritual of Tai Chi) and seems to be a truly nice guy, a fact that nearly everyone interviewed relates.
Some of the most enjoyable moments are just Jim and his battered Collins guitar in the desert, performing his songs such as "The Day the Devil Changed" and "There's No Shadows In The Shade" from his latest record I'm A Song. The sound is pure and intimate, just a man and his muse. The King of Broken Hearts is a overdue tribute to a true icon of American music, the great Jim Lauderdale.
---