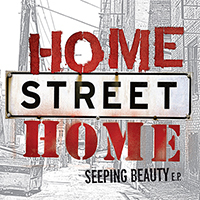 Home Street Home
Seeping Beauty E.P.
Fat Wreck Chords
Fat Mike has written a punk rock musical with Tony Award winner Jeff Marx? And it's called The Shit Musical? If Green Day can score a Broadway hit with American Idiot, why not?
Home Street Home's Seeping Beauty E.P. has got one song from the soon to be released full length release and a track exclusive to the limited edition 7". The title track starts off with a piano intro and some sweet little vocals by Bad Cop/Bad Cop's Stacey Dee, but then quickly evolves into a very NOFX-type burst of melodic punk. Fat Mike penned the song, and plays guitar on the track, but it's Dee's vocals that really elevate this song and give it character.
The b-side "Safe Words" is a hilarious, and gross, song about sex and all of the odd little deviations that the Home Street Home's teenage runaway character seems to be discovering. Musically it's a fun little ditty, but lyrically…. you'd be best not to listen to this song with your grandma, let's put it that way.
Home Street Home, the concept album, will feature a who's who of the punk rock world (Alkaline Trio's Matt Skiba, Frank Turner, the late Tony Sly, and Dance Hall Crashers' Karina Denike – to name a few) as well as the Broadway world ( Lena Hall of Hedwig and the Angry Inch fame). It's already being put on as a full stage musical in San Francisco and is sure to take on the seedy underbelly of the world very soon.
---