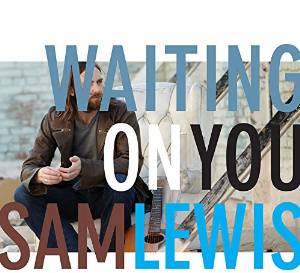 Sam Lewis
Waiting On You
Brash Music
Honey-voiced Sam Lewis hits a home run on his second album, Waiting On You. The Nashville transplant finds a southern soul groove that never lets up for the album's 12 cuts. Co-produced by Lewis and Oliver Wood of the Wood Brothers, the record features a stellar cast of helpers including the great Kenny Vaughan on guitar along with Darrell Scott, Will Kimbrough and Willie Nelson's ace harmonica player, Mickey Raphael. With all that talent, you know the end result is gonna be good, and good it is.
Opening with "3/4 Time", Lewis has a funky, Muscle Shoals/Memphis thing going, and his voice, a hybrid of James Taylor mixed with a bit of Van Morrison, rides atop Vaughan's guitar like icing on a cake. Slowing it down on "Love Me Again", Lewis is buttressed by the legendary McCrary Sisters on vocals and some nifty slide work from jack of all trades Will Kimbrough. The whole record has a Spooner Oldham/Dan Penn vibe, particularly on the stomper "Things Will Never Be The Same".
Recorded live in two and a half days, the end result is anything but rushed, but rather relaxed and easy, a perfect summer record to be enjoyed with some good whiskey and time to appreciate Lewis's grand voice playing off some excellent musicians. A little bit rock, a bit of Memphis soul, and loads of atmosphere, Waiting On You satisfies.
---