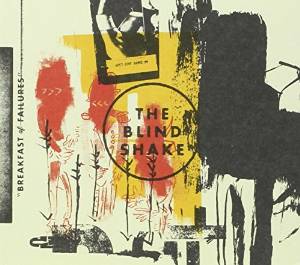 The Blind Shake
Breakfast of Failures
Goner
I feel like I arrived late to a really killer party, but – in my defense – I didn't know the party was happening, I just stumbled upon it… a little late. And by "party," I mean The Blind Shake. Holy mother of all things deliciously wicked, this Minneapolis trio sound like vampire surfers discovering rock 'n' roll on a cold, wet beach beneath a harvest moon, or at least that's how "Dots in the Fog" sounds to me. A sexified, trashy, dark groove with Danzig-esque vocals and a riff that begs for nudity, drunkenness and debauchery.
Breakfast of Failures, the band's sixth full length, has an unhinged feel, like a storm about to break. Opener "Old Lake" kicks down the door with a sonic kaboom, and "Parachute" drives the album through a psychedelic Ralph Steadman landscape, all very Fear & Loathing. The slow, droning, feedback noise of "Nobody Else" closes out the record with a bang.
The Blind Shake's Goner Records release is fuzz filled, maniacal punk weaned on the teats of The Stooges, and The Gories that sounds familiar and not of this world, simultaneously. The tag line on their website is "Extraterrestrial backyard surf party," and that about sums it up. They've already got a new album in the pipeline, set for an April 2015 release. These surfer extraterrestrial punks do not appear to need sleep… see? Vampires.
---