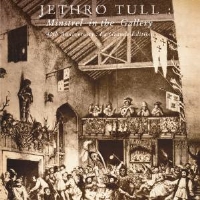 Jethro Tull
The Minstrel In The Gallery (La Grande Edition)
Parlophone
Ian Anderson is man known for playing violin on one leg and leading the 1970's rural British Progressive rock movement in the form of Jethro Tull. He's released over twenty albums, and thematically finds fascination in country life, ancient times and complex rhythmic structures. Released 40 years ago, Minstrel in the Gallery was the band's eighth album and while not a hit factory like Aqualung it's consistent and representative of that bygone era. This reissue lets us look back with some perspective on an album that itself aimed for perspective on the past.
As the 1960's wore off, the drugs became a bit more refined and rock and roll ever-so-much more. The 4/4 drumming and the wall of noise expanded into nearly untranscribeable rhythms, vocals shifted from present day social commentary to an always-glorified ancient realm. Tolkien's The Hobbit was the hip book, and while Anderson generally avoided dragons and wizard motifs, the quieter joys of Hobbiton and Gondor fill his songs.
The title track focuses on view of court life from the elevated if despised Minstrel's Gallery; musicians were a notch above the servants but just and only welcome as performers. "Cold Wind to Valhalla" is calmer, the guitar is tuned to sound like a harpsichord, and the song complains about both the weather and end of life. Anderson sings a half register higher than you might expect, and keeps accompaniment to a sprightly violin. The mood calms further in "Black Satin Dancer": while the focus still concerns death traces of a symphony filter in and lead us to the final track on the original vinyl release: "Requiem." We've now completed a journey from anger at life to fear of death to the joyful acceptance that it finally has arrived. The mood smoothly slides through multiple transitions leaving what is ultimately a satisfying concept album, or at least a concept side.
Metaphorically flipping the disk over we enter the acoustic world of "One White Duck". Here contemplative lyrics place us in the modern world and the singer doing the one thing all rockers do: driving somewhere else. The vibrato in Anderson's voice feels completely natural, and while this is no rocker it's a fine love song to keep in your back pocket. "Baker Street Muse" is itself a concept song on this concept album. Originally a single 16 minute track filling nearly half an album this CD release breaks it into five loosely related tracks, all surprisingly unpretentious. "Pig Me and the Whore" flows into the childlike "Nice Little Tune" then makes its way to disillusionment with the business in "Mother England." How are they related? Have another toke and let's discuss. The original album wraps up with the 0:37 cut "Grace", it offers greetings to all his muses, human and animal, and is a nice book end to the angry opening track on Side One.
There's a good bit more on this collection including the bonus tracks from 2002 box set, a pair of BBC versions of "Minstrel" and "Valhalla", and a several live hits: "Locomotive Breath", "Aqualung", "Cross Eyed Mary" and my absolute favorite Tull title: "Skating Away on the Thin Ice of A New Day." I think that every morning as I leave the house. Only have the audio material came across my desk but rumor has it you might see two concert DVD's if you pop for the physical release. I can't say much about them, but what I've experienced is a high quality retrospective with top notch sound. Oldster fan or bearded hipster, this is a classic album from the glory days of intellectual rock. And you can get it on vinyl!
---