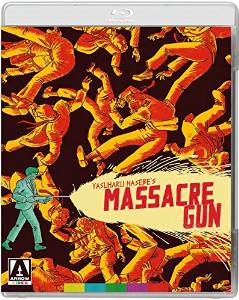 Massacre Gun, Blind Woman's Curse
directed by Yasuharu Hasebe
starring Jo Shishido, Meiko Kaji
Arrow Films
The Japanese have been producing Yakuza films since the days of silent cinema. Comparable to American Westerns, many Yakuza films dealt with gangsters concerned with keeping the peace but ultimately driven towards violence through their sense of honor and their moral code. The Yakuza films peaked in the mid-century, with directors like Seijun Suzuki putting their own colorful spin on the genre.
Japan produced so many of these films that it can be intimidating for beginners to know where to jump in. Arrow Films has released two Yakuza films, which while different from each other, would be good places to start.
The first, Yasuharu Hasebe's Massacre Gun is a stylish noir-influenced Yakuza film from 1967 when the genre was at its peak. Hitman Kuroda (Jo Shishido) realizes he must quit his gang after his boss orders him to assassinate his mistress. Kuroda and his brothers take over the old gang's businesses and prepare for war against overwhelming odds.
While the story is fairly straightforward, Hasebe is a master at keeping a cool, simmering atmosphere, and there are several inventive shots, such as filming a bar discussion in the reflective bartop or an overhead shot of a meeting with the boss. Hasebe's action scenes pop all the more from this mood, and the ending, while somewhat predictable if you've ever seen a noir film, still packs an emotional punch.
After an example of an unpretentious, up-front gangster film, why not follow it with Arrow's other Yakuza offering, Teruo Ishii's 1970 horror-influenced Blind Woman's Curse?
Blind Woman's Curse's heroine Akemi (Meiko Kaji from the Lady Snowblood series) avenges her father's death and becomes head of the Tachibana clan. There are double-crosses, dreams of a black cat lapping blood, hunchbacks, gore, geysers of Technicolor red blood, and a strange psychedelic scene set at a fair.
Set in a period after the eighteenth century (characters wear traditional Japanese clothes, yet some wear bowler hats and vests and drive cars), Blind Woman's Curse effectively blends the Yakuza film with horror, as well as the nascent gore film (characters get tattoos flayed off their skin), combined with elements of dream-like fantasy, like the fair sequence or the Van Gough-like sky in the final showdown.
While I'm not sure what restoration was done on the film, the Blu-ray looks astounding. Ishii knows how to work with color, and the result is a prismatic assault on the senses that will have viewers asking themselves, "Did I really just see that?"
Both movies feature commentary by Japanese film expert Jasper Sharp who reveals several interesting facts – such as the actress who was married to Henry Miller or the fact that Japan had a long running series of cursed cat movies.
Arrow Films has just started releasing exploitation titles in America, and all the titles so far have been vast improvements over the murky DVDs that used to be the only way to see these titles. With Yakuza films stretching all the way back to the dawn of Japanese cinema, let's hope that Massacre Gun and Blind Woman's Curse are just the beginning of a long series of high-quality Blu-ray editions of these films.
---