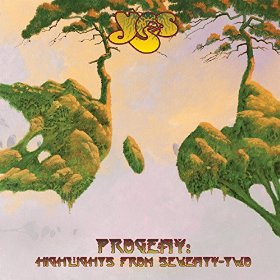 Yes
Progeny: Highlights from Seventy Two / Progeny: Seven Shows From 72
Rhino
Back in 1972 when things were still groovy and rock and roll was a steam roller, the band Yes lead the pack in making complex progressive music that featured symbolic lyrics, arduous time signatures and album art designed for you to stare at endlessly for hours on end enjoying your hallucinogenic of choice. The band was touring to plug their album Fragile and high quality tapes were made of most of their shows. These have "re-surfaced" and come at a time when vinyl is become popular again. Thus you can have the same experience I had: buying the product, slitting open the cellophane wrapper, smelling the new rock and roll, dropping the needle, and cursing when your little brother scratched your brand new disk. And you lived with that flaw until the next album came along.
Rhino is offering two packages, both of which I'll cover here. For the interested and unfamiliar, I'll suggest the Highlights from 72 collection. Here you'll experience the big hits and the long solos: "Close the Edge", "Round About", "All Good People" and "Close to the Edge" intermixed with solos by Rick Wakeman and Steve Howe as well as the classically rocked out "Siberian Khatru." Prog rock was sneaky that way; it made all us hippies appreciate jazz and classical music and we never knew until we outgrew punk.
More serious fans with deeper pockets (read: financially successfully hippies) can revel in the multi-disk Seven Shows from 72. Just as advertised this 14 CD collection covers seven full concerts the band played along the east coast and into Canada. Despite the massive number of tracks here there are only 9 individual songs, each done 7 times. Sometimes there are slightly jiggled track lists and excerpts from "Six Wives of Henry the VIII" and "Clap – Mood for a Day" pop up. Are these various tracks different? A bit, but you need to obsess more than I plan to in order to find all the nuances. But that's cool, there are fans out there who relish this sort of Sorting Hat fun, and perhaps you are one of them. I've listened through and can report the sound quality is good as any live show anywhere.
---