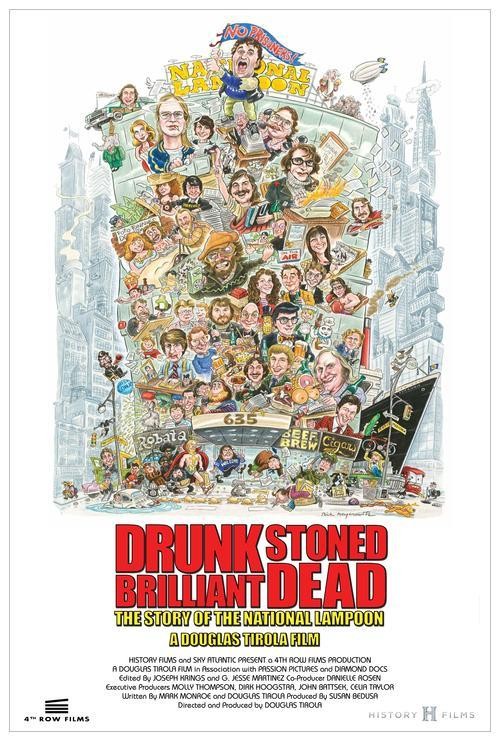 Drunk Stoned Brilliant Dead: The Story of the National Lampoon
directed by Douglas Tirola
starring Matty Simmons, Judd Apatow,Kevin Bacon, John Belushi, Richard Belzer, Chevy Chase, John Goodman
4th Row Films
If ever there was an argument for legalizing pot, it's this movie. While not explicitly pro anything, the National Lampoon was powered by cannabis and politics and a genuine dislike of then-current American politics and society. It's sprung from an occasional Harvard student magazine called the Harvard Lampoon, as the film points out "no one has ever actually seen a Harvard Lampoon." I certainly haven't. It created a new brand of comedy that replaced the old Borscht belt "Take my wife – please!" gags with more insightful, more subversive and more unexpected humor that was particularly funny with a good buzz. It also arose just before the glossy magazine industry collapsed; when the Lampoon was in print the magazines you read defined your politics and personality the way your running shoes and craft beer choices define you today.
A guy named Matty Simmons ran this circus; he had already started the still- successful magazine Weight Watchers Magazine and was instrumental in the birth of the credit card via the late, slightly lamented Diners Club. National Lampoon started out as a bunch of hippies writing material not that different from Robert Crumb or Charles Bukowski, Simmons cleaned up the art direction, dug up advertisers, and got these guys all running in the same direction. It's hard to recapture those moments, but visualize this: a pistol held to the head of a dog and the caption " Buy this magazine or the dog gets it!" We did, and the dog survived to be run over by a car.
National Lampoon was sexier and less inhibited that anything similar; Playboy might be a close match, it epitomized early 1960's cool factor but Playboy always supported the status quo but with more sex. The Lampoon tore it down with a dose of drugs and politics. It also had better art direction and once they got a major advertiser they really took off. Side projects appeared, including a best-selling album Radio Dinner. The writers hooked up with Second City, a Chicago-based improv troupe that featured John Belushi, Chevy Chase and Gilda Radner, and soon they an off-Broadway hit with Lemmings. The album morphed into a subversive and now hard-to-find radio show, and then there were movies. Animal House was based on a writers fraternity days at Dartmouth, Vacation went back to the station wagon trips of youth and thus the magazine was bled of talent by Hollywood. After all, that's where the real money always is.
Begun in 1970, The National Lampoon hung on for 19 years but had lost its edge about halfway through. "Sex issues" and momentum kept it alive, and what ultimately killed it was a campaign by the Christian coalition to harass its advertisers after Simmons ran an ill-advised "Baby in a blender" graphic. Like any cultural shooting star, it rose, burned brightly and fell into the abyss in a less than half a life time. The film reads as a time capsule for those of us who subscribed and a warning that won't be heeded by the young: you can only be drunk, stoned, and brilliant for so long, but eventually you will end up dead.
This film is part of the 2015 Florida Film Festival www.floridafilmfestival.com
---