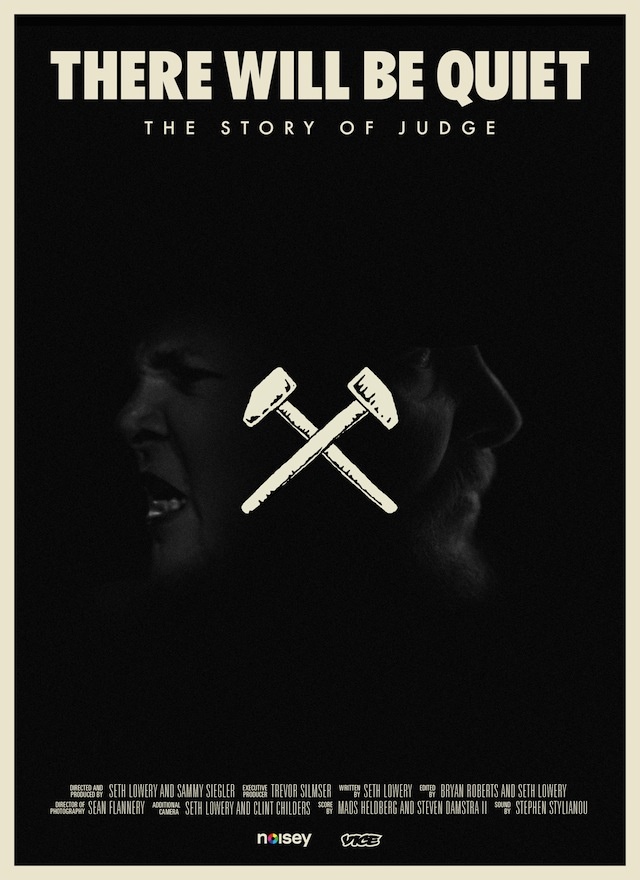 There Will Be Quiet: The Story of Judge
directed by Seth Lowery and Sammy Siegler
starring Mike Judge
Noisey
Straight edge was an odd subculture. A movement spawned from a song that clocks in at under a minute, was it a triumph of Reagan-era "Just Say No" conservatism finding its way even into punk rock, or a sub-subculture of kids who saw the early punk glorification of self-destruction as limiting and absurd?
Probably a little of both.
After bursting to life in the '80s American hardcore explosion, straight edge had somewhat faded away by the middle of the decade. Sure, everyone still liked those Minor Threat and SSD records, but without new standard bearers, the movement didn't seem to have a lot of forward momentum.
Then came Youth of Today and a new wave of straight edge bands hearkening back to those days just a few years ago, stressing clean living and positive outlooks. To those outside the scene, these bands could seem preachy and militant. To Mike Ferraro, drummer for Youth of Today, that perception was going to be exactly the point of his new band Judge. Growing up a loner, Ferraro found inspiration in music at an early age, most significantly David Bowie's The Rise and Fall of Ziggy Stardust and the Spiders from Mars. Other loners and misfits led him to punk, and seeing New York hardcore legends Agnostic Front and going to CBGB's matinees gave a sense of community in the hardcore subculture.
A drinker from an early age, the death of Ferraro's mother from pills and a drunken beating led him to embrace the straight edge lifestyle and he soon became the drummer for Youth of Today. Fed up with the negative attitudes and jokes directed at the band, Ferraro founded Judge, a darker, more militant straight edge band. Ferraro possessed a bark reminiscent of Negative Approach's John Brannon, and the band blended elements of hardcore, metal, and a touch of oi to create a darker, more threatening sound. Violence and rumors plagued the bland throughout their career, and Ferraro became conflicted about playing shows where his words became an excuse for violence.
Directors/producers Seth Lowery and Sammy Siegler have crafted a compelling, watchable documentary on Mike Ferraro/Judge, worth watching even for those with little background in the band. Lowery and Siegler utilize old concert footage, photographs, and interviews, but the most fascinating interviews are with Ferraro. Watching his hands and gestures during the interviews, it is easy to see the shy loner behind the public face of the band.
Most of the ending is taken up with reunion planning, which is interesting, especially seeing a band that could draw about 300 play to 10 times that many, but I could have watched more interviews and been happy. Fans of Judge or New York hardcore will especially love this, but anyone interested in punk, hardcore, straight edge, or groups of loners, misfits, and weirdos banding together to create will find plenty to appreciate.
http://noisey.vice.com/there-will-be-quiet/there-will-be-quiet-the-story-of-judge-part-1
---