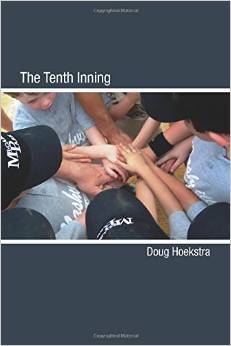 The Tenth Inning
by Doug Hoekstra
Five-Minute Books, Inc.
pitchers and catchers reported today, mending the dime-sized hole in the sole of my heart
You either read that and smile knowingly, or not. To those of us who do, Doug Hoekstra has written an ode to baseball that we are all richer for. Hoekstra, who is also an acclaimed singer-songwriter (his last album was Blooming Roses) follows up his marvelous collection Bothering the Coffee Drinkers from 2007 with this assortment of prose and poetry on America's game.
Hoekstra makes the observation that baseball is a thinking man's game, which is of course true. The actions on the field are just the start- each hit relates to another, every game reminds the fan of innings past. It is this never-ending tableaux of memories that enriches a mere game, elevating it to something more profound, more personal. Take the retiring star of "The Record", who confounds his fans stopping two hits shy of breaking Rose's achievement, having reached his "record", one that few knew of. Or Bob and Vinnie in "Bobbleheads", a poignant look at two friends attempting to capture some elusive time long past.
The book is filled with such moments, showing a true fan's love of the game, one that he hopes to instill in his children and cherish with his fellow fans, such as in the delightful "The Hanging Curve" that shows why you never leave a game too soon, or the terrific "Frank Lloyd Baseball" which reminds you of the masterful W.P. Kinsella's The Great Iowa Baseball Confederacy. Again, some will smile at a Kinsella reference. It is for you that Doug Hoekstra has written The Tenth Inning. Play ball!
http://www.amazon.com/The-Tenth-Inning-Doug-Hoekstra/dp/1494790645
---