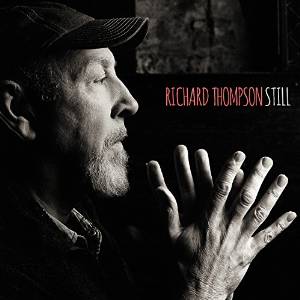 I need to tell you a story before I tell you what I think of Richard Thompson's new album, Still.
The first time I saw Richard Thompson was shortly after Shoot Out the Lights had been released. Thompson hadn't been touring for a while and we heard he was going to be playing the Ann Arbor Folk Festival. The weather was awful the day of the festival, but we piled into my car and drove two hours through driving snow to Ann Arbor intending to catch the afternoon show and get home before it got dark. After getting inside, we discovered Thompson was only playing the evening show. So we bought tickets for the evening show too. When we finally heard Thompson play, it was all worth it. He was charming, told funny stories between songs and was just amazing as a singer and guitar player. His set made fighting the weather, the drive, and the unexpected expense worthwhile.
That first Richard Thompson show was among a handful of transformative concerts I've witnessed. Since then, I've seen Thompson many times both solo and with various bands. I am a fan. The man can be brilliant. He can do amazing things on a guitar and he can write spellbinding songs. He is so good that even when he's phoning it in, he can still give a good performance.
So, I'm a fan with very high expectations. We've gotten that out in the open.
I was intrigued when I saw that Still was produced by Jeff Tweedy. I was hoping that he'd challenge Thompson to dig deep and pull out something new. I was hoping Tweedy would do for Thompson what Dan Auerbach did for Dr. John on Locked Down; treat him like an artist who still has something to prove and dare him to try to equal the best he's ever done. It was probably too much to hope for.
Still isn't a bad album; it's a generic Richard Thompson album. Great guitar playing? Well of course, Thompson can reel off tasty guitar licks in his sleep. "Josephine" would be a masterwork for a lesser artist. I do like "Beatnik Walking" just for its celebration of Amsterdam. I wouldn't be surprised if "Where's Your Heart" became a county hit for another artists. These are good songs, but I rather hoped for more.
Some of the tunes on Still just don't work. "She Never Could Resist a Winding Road" is a song that meanders aimlessly. "Patty Don't You Put Me Down" and "Long John Silver" sound unfinished. There are good ideas in both, but they thinking they're what "Yesterday" would have been like if Paul McCartney had decided the scratch lyric "Scrambled Eggs" was good enough. Then there is the "Guitar Heroes." I'm sure it would be fun in concert to hear Thompson showing off his guitar mimicry, but we already know he's a great guitarist. It just feels cheap.
Two songs show that Thompson is still capable of putting all the elements together and giving us material that is more than just a rock and roll song. "No Peace, No End" spins the frustrations of Ferguson, Abu Ghraib and never-ending conflict into a Dervish's whirl of guitar and pessimism. "Where were you when the walls were crumbling? Where were you when the guns were rumbling? Where were you when the hounds of hell took sons and lovers away?" Thompson asks. It's a question, an accusation, a lament and a challenge.
"Pony in the Stable" is my favorite song musically and lyrically on Still. It tumbles out in an Arabian-accented rush with flamenco influences guitar figures dancing around off kilter percussion and some fuzzy guitar. I wonder whom Thompson is thinking about when he sings; "You're messing with my mind. You're thrilling me but killing me… Same old, same old packs of lies and compromises, same old, same old pony in the stable." I wonder if Richard realizes they could be applied to his effort on Still?
---