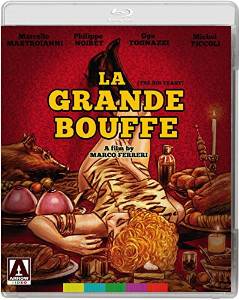 La Grande Bouffe
directed by Marco Ferreri
starring Marcello Mastroianni, Michel Piccoli, Philippe Noiret, Ugo Tognazzi
Arrow Films
In 1973 this film shocked Europe, and today it's still a weird and disturbing tale of fatal ennui and a gastronomic orgy. Today it would make a fine reality show – food, death and sex: a perfect recipe for ratings. But not here. Four apparently successful men retreat to an ancient manor house in the 16th arrondissement of Paris and pack it with the finest meat, cheese and wine they can get. Marcello (Marcelle Mastriani) flies airplanes and bangs stewardesses, Michel (Michel Piccoli) produces TV, Phillipe (Phillipe Noret) is a judge, and Ugo (Ugo Tognazzi) is a chef who could run a five star in his spare time. At first is seems simply a guy's gastronomic weekend, but soon things turn dark. Marcello suggests prostitutes as a digestif, and along with three professional naked women a prim school teacher Andréa (Andréa Ferréol) joins this butter-dipped oven of lovin'. What's really going on here is a suicide pact: why they all wish to eat themselves to death is never explained, but the mastication and masturbation goes on for nearly two hours until only Andréa is left alive.
While this film is intended as a comedy, there are relatively few laughs. The target is a satire of the French bourgeoisie; and its doesn't resonate with a modern American concerns. It's not clear exactly what they are making fun of beyond food snobbery, but a lot of effort went into this project. Food and consumption is the central theme here, and at first it fascinates; as Ugo cooks he drafts the others in to his world of broth and pastry and roasts. An enormous amount of food appears: two deer, four lambs, a side of beef, doves, chickens, turkeys and even the occasional vegetable are off-loaded as the film starts.
At first the food looks great but as we proceed it become psychologically revolting. Marcello orders up some prostitutes; and along with what you would expect they also roll around in the cakes naked until they wise up and leave with a doggy bag. Andréa picks up the slack and does it with everyone even after solemn Phillipe offers marriage. As he watches her romp with Marcello he soberly announces: "This is done in sympathy. She is doing nothing evil." Eventually she makes her biggest impression by sitting naked on an enormous tart proving damn near anything can be erotic if it's in a mid-1970's French art film. I give this film points for total weirdness, and by the final credits and upbeat close-out music you'll be disgusted by the sight of more food arriving even after the death.
---