Steely Dan
with Elvis Costello and The Imposters
Mid Florida Amphitheatre, Tampa FL • 8-12-2015
Carl F Gauze
If there's a great gulf between Tampa and Orlando, its I-4. I spent over a half hour dead stopped both coming and going and missed the first two numbers of Elvis Costello's set. He was the main reason for this trip, but both life and rock and roll are full of disappointment. As I found my seat in this massive open air venue, "Watching the Detectives" was rolling up. The sound was boomy; no side walls and a canvas roof is an acoustic space more suited to a metal sow or cattle auction. Elvis and the bad were way off in the distance; he looked snappy in a white hat and black shirt, the band was tight if poorly amped. Most of the material was hits from the early days: "Shabby Doll", "Alison", (I Don't Want to Go To) Chelsea", and "Pump It Up" all felt promising, but frankly, this was a band that needed a much smaller space to be emotionally effective.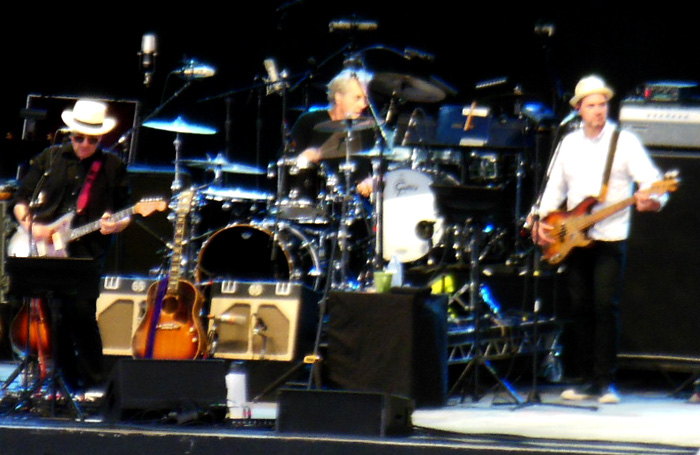 Tonight's crowd was "older;" the venue felt a bit over half full when I arrived but by the open of Steely Dan's set it was nearly full, although no grass seating allowed tonight mostly due to the heavy down pours the area experiences in summer. Between bands I wandered the "merch" area; there was beer everywhere along with mixed drinks; while the crowd was in no way rowdy they had ample opportunity, so long as their credit balance was good. Even the rest rooms ran efficiently, this is a state fair ground in the high season and the technicalities of "beer in / pee out" are handled with astounding effectiveness.
Sun set. Night time. Big time. Steely Dan formed over 40 years ago and when I told friends about this gig the unified response was "Steely Dan doesn't tour". Well, they did this season, and I'll start by saying while the sound wasn't perfect, it was much better than Costello's set. The Walter Becker and Donald Fagen pairing remains a solid and occasionally productive team; their glory days lay in 1970's classic rock but they have stuck together and remained popular to this day. But this is a late point in their career, and the theme of the set list was "give 'em the hits." Nothing wrong with this, and it is easier to enjoy a familiar song with weak sound than trying to suss out a new one when you can't get the subtleties. I kept trying to count the people on stage, but all I will swear to is a sharp 4 piece brass line, three back up singers, Fagen and Becker, a stray bass player stage right, a grand piano stage left, and a drummer and rhythm guitar lost in shadows. Perhaps the sheer volume on stage overcame the space.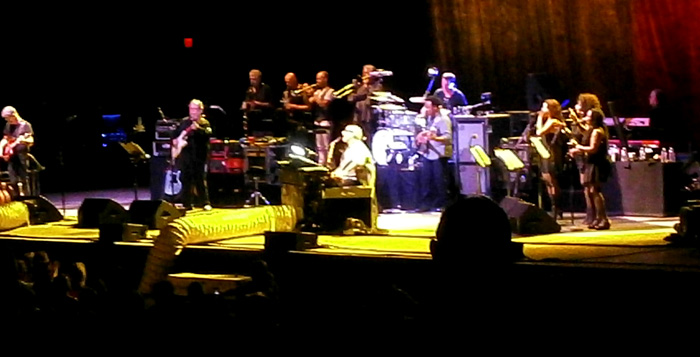 You can probably guess the set list: "Black Cow" and "Aja", "Dirty Work" and "Josie" drew the best response from the audience, but even more obscure tunes ("Daddy Don't Live in That New York City No More","Babylon Sisters") were warmly received. Occasional whips of vaped ganja blew through space, but the predominate odor of the audience was cigars. My, how we have aged. As the show came to climax, "My Old School" brought people to their feet, and I started out as "Kid Charlemagne" filled the air. That was my introduction to the band way back when, I found that song on a 45 in a box of "real" radio station discard I scrounged for my campus call sign, and about the best possible song to hear fade as I exited. Good timing on my part, I was on the road before most of the crowd had time to back up the parking lot. And then it was smooth sailing all the way to Auburndale. I took a nap in the left lane.
Steely Dan: http://www.steelydan.com/; Elvis Costello: <http//www.elviscostello.com/> ◼
---