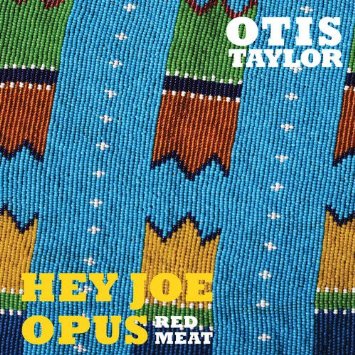 Otis Taylor
Hey Joe Opus/Red Meat
Trance Blues Festival Records
Adultery, murder, transgenderism, deceit, betrayal – did I mention this was the latest Otis Taylor release? Throw in guest guitarists Warren Haynes (Allman Brothers Band, Gov't Mule) and Bill Nershi (The String Cheese Incident) as well as singer/guitarist Langhorne Slim, and the result is a progressive blues journey of the richest kind. Taylor's self-named "trance blues" groove on this, his fourteenth record, incorporates a dreamy, hypnotic flow of thought-provoking, metaphor-heavy material that begs to be heard in one continuous listen, from start to finish. Using the Billy Roberts-penned "Hey Joe" (most famously recorded by The Jimi Hendrix Experience and a staple in Taylor's live sets for years) as the central theme while alternating with multiple versions of Taylor's own "Sunday Morning," the album explores life's choices and their consequences. The seasoned bluesman's gritty yet understated vocals partner with such surprising accents as Anne Harris' violin and Ron Miles' cornet as well as David Moore's banjo, transfixing the listener with doleful intensity while the unexpected instruments complement Taylor's gravelly voice.
Opening with a melding of Taylor's raspy tones set against violin, cornet and the unmistakable sound of Haynes on guitar, "Hey Joe (A)" immediately draws you in, while later in the collection the mellower companion "Hey Joe (B)" featuring Slim (vocals/acoustic guitar) brings the tempo down a notch. The sultry blues riffs of "The Heart is a Muscle (Used for the Blues)" set the tone for the remainder of this aural saga. "Cold at Midnight" hints of love and betrayal, as a man desperately tries to reach his woman: "Call you on the phone, two o'clock in the morning, baby you ain't home, maybe in the mortuary, call the hospital, you ain't there, maybe in some kind of car accident, but you better not be in Mexico." Peppered throughout are the three mournful instrumentals, "Sunday Morning (A), (B) and (C)" as well as "They Wore Blue," which all evoke images of Old West weather-worn cowboys against a dusty tumbleweed backdrop. On tracks such as "Red Meat" ("sometimes you eat the steak, sometimes the steak eats you") and "Peggy Lee," which focuses on a man's metamorphosis into a woman (Nershi on acoustic guitar and Moore on banjo), Taylor continues to focus on the theme of people's actions and their subsequent impact on the lives around them.
The refreshingly bold, distinctive homage to Hendrix on this record is a testament to the enduring presence of Taylor as one of the most innovative blues musicians in the business. With a unique spin, Taylor has created a style and sound all his own, and hopefully will continue to surprise and impress fans with his singular brand of genius.
---