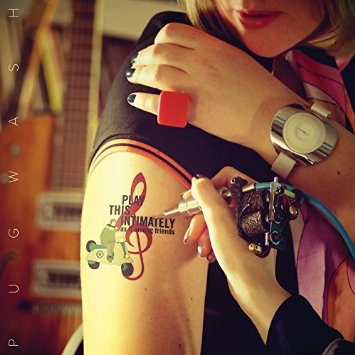 Pugwash
Play This Intimately (As If Among Friends)
Omnivore Recordings
Ireland's pop wunderkinds Pugwash might not be a household name yet, but in a just world they certainly would be tripping off the tongues of fans of XTC, Velvet Crush or ELO. But until that blessed day comes, they remain elusive. Here's hoping their first international studio release (the band's eleventh release all told) Play This Intimately (As If Among Friends) introduces them to a wider audience.
Recorded at Konk Studios in London- the Kinks studio- and featuring Neil Hannon (The Divine Comedy) on keyboards, longtime fans will revel in the lush sound built up from layers of guitars and harmony vocals, reminding one of the great '60s pop of the early Bee Gees or the Hollies. Starting off on a high, slightly rambunctious note with "Kicking and Screaming"- which wouldn't sound out of place on the Velvet Crush's Heavy Changes– vocalist and guitarist Thomas Walsh and the rest of Pugwash- Tosh Flood, guitar, Shawn McGee, bass and Joe Fitzgerald on drums, strike a up-tempo pace only broken by a nice headphone phase effect at the mid-point of the song, ala ELO (whose leader Jeff Lynne is credited with "Shout!" on the song). "Lucky in Every Way" follows, with a great Apple Venus XTC-ish opening harmonies to swoon over.
"Clouds" has a gentle, '60s lounge core vibe to it, with fluttering Moog fills and a great "Farfisa Rhythm Box" backing from Hannon, and an understated flugelhorn solo- and it all works perfectly. "The Fool I Had Become" has a nice early McCartney solo era feel to it, while "You Could Always Cry" sounds like a great unreleased Everly Brothers song, with tasty country fills from Flood. "Oh Happy Days", which features Kink Ray Davies and Andy Partridge on backing vocals- is just pure ear candy.
In fact, Play This Intimately (As If Among Friends) is ambrosia for anyone who loves well-made pop ala everyone from The Beatles to Jellyfish and beyond, and given half a chance, Pugwash would be topping the charts all around the world. But for now, let's just focus on you. This is one of the year's great albums, no matter the genre. Thanks to Ireland for the great Pugwash!
---