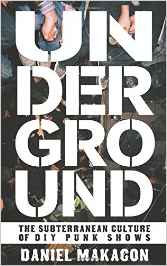 Underground: The Subterranean Culture of DIY Punk Shows
by Daniel Makagon
Microcosm Publishing
First come the outcasts. Then the hipsters. Then the trendsetter, the marketers, the exploiters, and the suburban wannabees all appear in their proper turn; lastly the academic analysts arrive to bat clean up. All scenes experience this arc from punk to fashion to politics; after 40 years of head-banging punk has become more of a field for doctoral candidates than a fresh youth rebellion. Author Makagon grew up with the second wave of punk; the one that started around 1990. Naturally he focuses on the SoCal Skate Punk ethos rather than the British apocalyptic political / economic music. By 1990 the rules of punk were codified: thrash metal "E" chords, dissonant harmony, and stage diving. Skate boards were a given, as were loud illegal shows in venues that often defined the dangers zones of urban decay. There were the big bands like The Clash or The Ramones with tour buses and concert halls; these bands might even make a useful living in the rock and roll lifestyle. But the essence of punk was lo-fi lo-skill lo expectations performances and the music spread from L.A. to Omaha to Iowa and all points in between.
Makagon writes in a dense, almost academic style and explores both his personal experience with a multitude of bands as well stories and tales of an underground show culture that seems destined to fade. One might reasonably ask: "Would YOU want a band to fire up at 1 a.m. and leave broken beer bottles on your lawn?" What worked in semi-abandoned commercial building was cool and felt dangerous; but in a neighborhood it's pretty un-neighborly. His stories have common threads: neighbor complains, landlords evict, people who are running underground shows get tired of the wrong punks showing up and starting fights. They talk of gift economy with donation or small dollar amounts for shows; in exchange out-of-town punks have to buy their own gas, their own food and more often than not get abandoned by their hosts. The funniest thing in the book is Makagon's annoyance that Boston cops would actually read the show posters and then show up to keep the shows from starting. Killjoys. But wasn't a "punk only" practice; unpermitted rap and house shows received the same visits.
But this is all uninteresting fluff; the takeaway this book left me with was reminiscences of a rapidly fading scene that was cool when you were in it, but destined to fall apart sooner or slightly later. Punk began with the rejected kids who were willing to stand up to the abuse engendered by loud, out of tune music and a fashion sense no one understood. We all have an element of this nostalgia in us, or we will once our pimples clear up. This is a fun and interesting biography of optimism tempered with loss, and it's the universal loss of youthful optimism that makes for warm nostalgia.
---