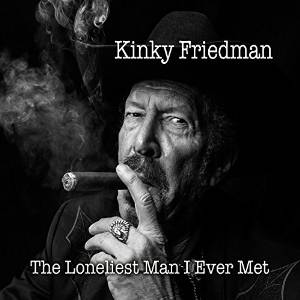 Kinky Friedman
The Loneliest Man I Ever Met
Avenue A Records/Thirty Tigers
There ain't nobody else like Kinky Friedman on this earth. And I'm pretty sure he'd say "And thank God for that." He's a great country and western songwriter, with such "hits" as "They Ain't Makin' Jews Like Jesus Anymore", "Get Your Biscuits in the Oven and Your Buns in the Bed" and the legendary rejoinder to Merle Haggard's "Okie From Muskogee" entitled "Asshole From El Paso". He's a pulp fiction writer, starring as himself in a series of detective novels set in New York. He's friends with everyone from Willie Nelson (who joins Kinky on the opening "Bloody Mary Morning") to Don Imus and was one of Nelson Mandela's favorite songwriters for the ode "Ride "Em Jewboy".
For the first time in 39 years, he's released a new album, The Loneliest Man I Ever Met and like past successes such as Sold American from 1973 or Under the Double Ego, it's a uniquely Kinky experience. Made up mainly of covers, Friedman has lost nothing along the way. He's still a rascal, speaking uncomfortable truths and heralding the downtrodden ("Lady Yesterday" and "Freedom to Stay"). His voice now resembles Harry Dean Stanton, sort of a cross between singing and talking, and he's picked material that suits it to a tee. From a maudlin take on Tom Waits' "A Christmas Card from a Hooker in Minneapolis" to a harrowing "My Shit's Fucked Up" from the late Warren Zevon, Friedman is on top of his form.
It's a good day when Kinky Friedman releases anything, and while we can hope the next record will have more Kinky originals, his versions of Dylan's "Girl From The North Country" or the rather unknown "Pickin' Time" by Johnny Cash are great. Welcome back Kinky…don't stay away so long next time. The world needs more Kinky, not less!
---