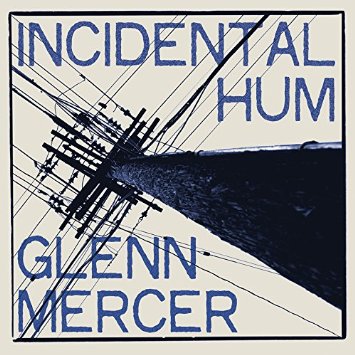 Glenn Mercer
Incidental Hum
Bar/None Records
For his second solo record (the first, Wheels In Motion was released in 2007), the founding member of the great New Jersey band The Feelies takes us on an instrumental journey of America – 2 of the 15 songs are geographically named – and the result is a varied mix of styles, ranging from the low-key opener "Hana" to "Cheyenne" which sounds like a lost cut from Bowie's Low with its pulsing drive and Eno-equese keyboards. Next up is "Mobile" which sounds like a soundtrack from a zombie movie set in a skating rink, with a delightfully cheesy keyboard/drum machine underscoring the rather Frippish guitar histrionics. In fact, the whole record owes a heavy debt to Brian Eno and Robert Fripp's No Pussyfooting, which is A-Ok to these ears.
Listeners that have explored the latter-day atmospherics of former Be Bop Deluxe's Bill Nelson will find a happy home here, for Mercer, as does Nelson, treats these instrumentals as fully-formed songs, not just aimless noodling recorded at home on a laptop. The record ends with 3 covers- a heartfelt rendition of "Over the Rainbow" and a faithful accounting of Eno's "Here Come the Warm Jets". The record concludes with Hendrix's "Third Stone from the Sun" which Mercer wisely doesn't attempt to oversell his guitar, relying instead on the inner groove of Jimi's creation, mixed with a bit of Middle Eastern accents that maintains the songs epic qualities while taking it to new places.
The Feelies aren't the most prolific of acts, so any output from any of them is welcome. Incidental Hum allows Glenn Mercer to take you on a journey. It's a good trip, indeed.
---