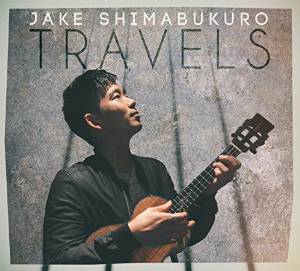 Jake Shimabukuro
Travels
Hitchhike Records
Quick, what comes to mind when you think ukulele?
Right. Tiny Tim, Hawaiian music or some folkie warbling over a steady tattoo of strums, am I right?
Let me introduce you to Jake Shimabukuro.
Shimabukuro came to fame with a viral video of him performing George Harrison's "While My Guitar Gently Weeps" in Central Park, and 13 million views later, the Hawaii-born virtuoso has redefined the uke in the same manner that Chris Thile did for the mandolin or Bela Fleck has done with the banjo. His newest record, Travels will appeal to music fans, and not that small (but proud!) uke enthusiasts. From the opening "Departure Suite- Part 1" Shimabukuro uses his mastery of the tiny fingerboard to go from graceful melody lines to shred (yeah, you can shred on a uke!). Backed up on most cuts by bassist Dean Taba and Noel Okimoto on drums, there seems to be nothing that Jake won't take on. From the fusion-like "Passport" or the traditional "Hi'ilawe" his playing is flawless, engaging and at times surprisingly moving.
He doesn't forget the covers on his eleventh solo outing either. His take on the Jackson 5's hit "I'll Be There" is at points breathtaking, for you hear the young Michael Jackson's voice come thru his strings, a truly great moment. But it's Shimabukuro's funky version of War's "Low Rider" that slays, with Jake's attitude to burn lead lines and in the pocket touch that summons the greatness of the original.
It's exceedingly rare to bear witness to a true innovator anymore, one unconstrained by tradition that takes their talent to a new, uncharted place. Jake Shimabukuro is such a person, and he ain't tip toeing thru any tulips.
---