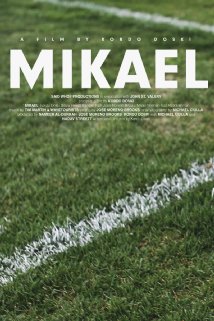 Mikael
directed by Kordo Doski
starring Kordo Doski, Randall Park, Michèle Tredger
Said Who Productions?
Lose your job, lose your wife, lose your reason to be. Right? That's the dilemma facing Mikael Kawa (Doski). Now he looks to his past, when he was a Division 1 soccer champ, just like his daddy. The family fled Kurdistan 30 years before, to the relative stability of Southern California, but on a whim Mikael lies about his age and asks if he can try out for the home team in Dohuk. Dohuk is one of those really important cities you never hear of; blazing hot in the summer it lies in that netherworld where northern Iraq, Eastern Turkey and Syria sort of meet. It's a long flight from LA, and he loses his luggage, struggles with his weak knowledge of Turkish, and works to overcome his general lack of cultural context. Once in town, he digs into a hotel and meets his only friend, night clerk Haval (Tredger). Then it's practice, practice, practice until he almost makes the team. There's just one chance left but now he can fulfill his father's dream that one day his son will "Play for Kurdistan."
As they say: "It's a movie with a lot of heart." Doski writes, directs, and acts and you can see more than a few family names in the cast list. The story is straight forward although the details of his marital break-up are weak. While I like his wife's (Sitara Hewitt) acting, her motivations seem petty and selfish at best. But once Doski plops himself in the heart of the story's central problem, the film flows smoothly and effortlessly. Great scenes include his taxi ride to the hotel; the cabby picks up seemingly random strangers, and you anticipate a mugging, but Dohuk isn't that sort of place. Another touching moment occurs when one of his competitors gives him a pair of soccer shoes to replace those lost by the airline. It's a random act of kindness and while the city he's journeyed to is on the edge of a war zone, the people in it seem completely hospitable to a stranger with an American accent. I can see this film thriving on the film fest circuit but not making a mainstream release. Doski carefully avoids the external politics of this city on the edge of the ISIS campaign, and you keep waiting for the firecracker-tossing crowd to turn into something else. But at the end, Doski is an Everyman with what ultimately is a modest dream, and his work and his friends support give him a small taste of victory. We should all be so lucky.
Mikael: http://www.mikaelfilm.com/
---