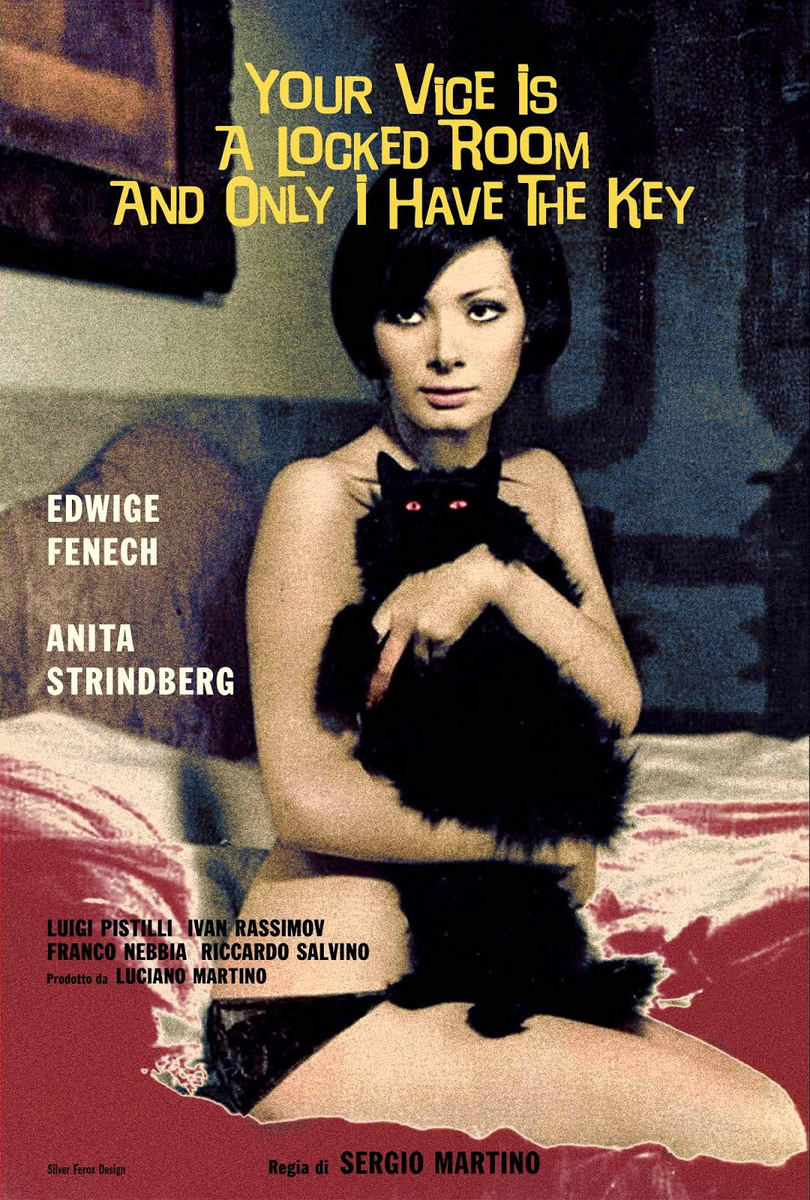 Your Vice is A Locked Room and Only I Have the Key
directed by Sergio Martino
starring Edwige Fenech, Anita Strindberg, and Luigi Pistilli
Arrow Films
Oliviero (Pistilli) is on the outs. He can't seem to write any more but his manhood still works; when not drinking heavily he's banging everyone but is wife Irina (Strindberg). She's scared for what remains of her life and her acting mostly involves opening her eyes really wide and screaming. She hates Oliviero's black cat "Satan;" eventually she attacks it with a scissor and blinds it. This doesn't help the marriage but it IS an element from the Edgar Allen Poe story that notionally inspires for this epic. When the maid Brenda (Angela La Vorgna) gets snuffed Oliviero convinces Irina to bury the body in the wine cellar. He's just wacky enough to commit murder and doesn't want to land in the jail where he probably belongs. It turns out there's another murder movie in this film, and that distracts everyone until pansexual Florian (Edwige Fenech) arrives to sleep with anyone who's not quiet dead yet. The heat gets tuned up, and before long we are surrounded by boobs, blood and bodies.
The plot is convoluted but the acting excellent as is the atmospheric look of the tumbledown Palladian villa housing our unhappy couple. There are enough double crosses to keep you guessing, but not so many your eyes glaze over. Ms. Fenech bristles with sexual energy; she's Algerian but here looks like the sort of English school girl fantasy magazines dote upon. The supporting cast is strong as well, Ivan Rassimov might be a young Robert Redford as the delivery boy and motorbike racer, and Franco Nebbia is a rotund police inspector who bumbles his way to the truth. Both the sex and the blood are explicit and lingered over lovingly but I'm not in love with the cat, it's a spooky element that feels forced. The cat serves little story purpose; Pistilli and Strindberg and Fenech are all evil enough to carry the entire project without it.
This is a classic 1972 Giallo movie; that's the Italian term for sexed up horror films that ultimately drove the 1980's slasher revival in the US. I never heard of "Giallo" either, but it derives from the yellow covers post war Italian thrillers sported. An extensive history of the genre is one of the excellent special features on the disk, as are the interviews with the still surviving "back of the camera" staff. There's more film geek nerdiness here than any normal person would want. But if you're still with me you are NOT normal, so have a peek through this lurid key hole.
---