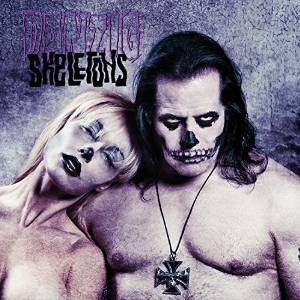 Danzig
Skeletons
Evilive Records
Come on, admit it. You've always wanted to hear Glenn Danzig sing an Elvis song. Its ok, I have too. And now, thanks to Skeletons, Danzig's new album of covers songs, we finally get that chance. Glenn tears up the lesser-known track from the Elvis film Speedway, "Let Yourself Go". I really want him to update the music video for this song right now. As for the rest of the tracks, the songs that formed his musical identity, the results are mixed.
Starting off the album is the title song from the biker film, Devil's Angels. If you miss Danzig with The Misfits, buy this right now! I thought I had entered a time warp, it sounded so classic. Another biker film song, "Satan" from Satan's Sadists follows and reminds me of the first two Danzig albums.
The misses include two of my favorite songs, and the tracks I was most looking forward to. "NIB" has been covered many times, and I recommend the Ugly Kid Joe version for an excellent update of the Black Sabbath classic. Danzig's version trades in the classic bass groove for crunchy guitars, which by themselves may have made for an interesting take. However, when paired with an uninspired vocal track, it all falls short. Likewise, I am a big fan of Aerosmith's "Lord of the Thighs," and couldn't wait to hear this version. However, the tempo and production never reach a level that really sparks.
Then there are the surprises. The only song newer than 1980 is the ZZ Top track, "Rough Boy." I wasn't expecting much, after the previous two discussed songs, but I was pleasantly surprised. The vocals are soulful and the backing instruments are balanced perfectly to the melancholy feel. Songs by The Troggs ("With A Girl Like You") and The Litter ("Action Woman") also evoke those early Misfits and Danzig recordings respectfully. "Find Somebody," originally by The Young Rascals, is closer to modern Danzig, with his vocals showing more energy than in most of the other songs. And the closing track, a version of The Everly Brothers' ballad, "Cryin' In The Rain," hits on all cylinders, with a discordant piano replacing the canned guitar riffs and the vocals sounding gloomy but not uninspired.
Glenn Danzig set out to make an album showcasing the myriad musical influences that brought him to where he is today. While not an unqualified success, I believe there are more hits than misses here, and a few true gems. If you are a Danzig fan, or a fan of any of these artists and want to hear a different take on some of their lesser known works, you should give Skeletons a listen.
---