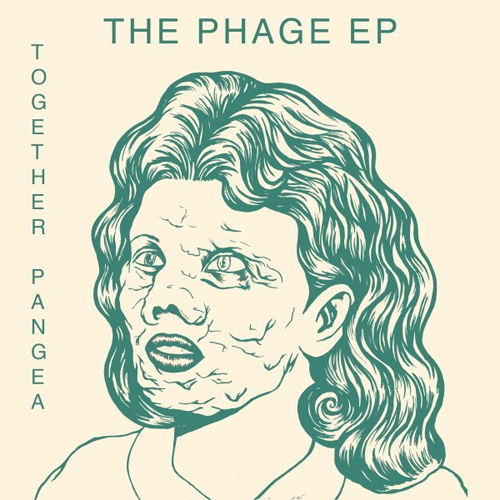 together PANGEA
The Phage EP
Burger Records
PANGEA (as they used to be known) always reminded me of FIDLAR with a penchant for Nirvana, Phil Spector pop music, and spaghetti westerns. The bratty vocals of William Keegan are laid up over top of speed freak punk riffs and layers of oddball noise, but at the base of it all are some smart pop melodies. Just when you think you can settle in for a steep drop, the roller coaster shifts and a moody, austere song like "Haunted" (from 2011's Living Dummy), or a mature, desert ache yearning cry like "Where the Night Ends" (the blistering ending track from last year's Badillac) come around and jolt you out of complacency.
The Phage EP, a quick 6 song release made while suffering from cabin fever while out on tour after tour after, is a proper primer for those not already hip to together PANGEA (as they are currently called). From the gnarly wastoid punk pop of "Looked In Too" and "Awful," to the heartfelt quiet of "Shes A Queen," and the clean fretwork and 70's classic rock balladry of "Blue Mirror" – this EP plays like a sampler of a band's ever shifting moods and influences. Like a cross country drive, where the playlists change by the hour, together PANGEA emulate what it is to be a music fan today with so much variety to choose from.
Piecing it all together and making it sound sharp and shiny is producer (and Replacement) Tommy Stinson.
---