Sun Ra, Revisited
by James Mann
Sun Ra: A Joyful Noise Directed by Robert Mugge Mvdvisual
Sun Ra Omniverse Hartmut Geerken & Chris Trent Art Yard
2015 was good to devotees of Herman Poole Blount, aka Sun Ra. The Alabama (or Saturn, depending) pianist, bandleader and free jazz innovator, who "departed the planet" in 1993 is the subject of two vital reissues that will hopefully spread the word of this musical genius to new ears.
First up is a DVD/Blu-ray version of Robert Mugge's Sun Ra: A Joyful Noise, originally released in 1980. Although short (only about an hour), this is Sun Ra and his Arkestra in full flight, playing in various locations in Philadelphia, performing such noted items from their vast catalog such as "Astro Black", "Along Came Ra" and "We Travel the Spaceways", featuring the saxophones of John Gilmore and Marshall Allen (who still leads a version of the Arkestra to this day) and vocalist June Tyson, among others. The film gives a brief, but compelling look into the magic that was Ra's music. On first listen it sounds chaotic and undisciplined- the sound of 15 or so musicians all going in different places at once- but as the shock wears off, you are drawn to the harmonic and rhythmic underpinnings at play. The music of the Arkestra was indeed "free jazz"- a freedom from convention, a freedom of expression and innovation, but not wildness. Sun Ra rehearsed his band for hours everyday, and expected all in the Arkestra to be fluent readers of music. Put another way- this music was written and designed to sound exactly as it did, and the world has yet to catch up to it.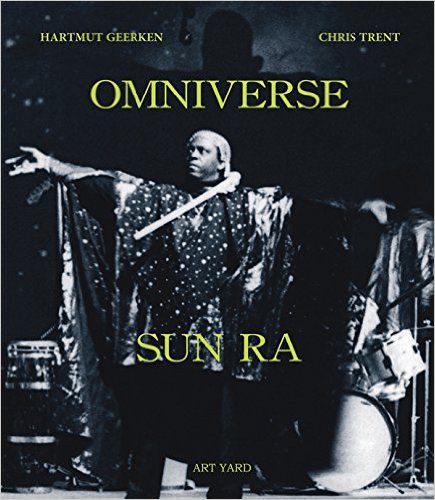 Secondly is the welcome reissue of Hartmut Geerken and Chris Trent's mammoth Omniverse Sun Ra. Originally published in Germany in 1994, this beautifully done coffee table book documents this brilliant, but overlooked jazz musician as few studies of any figure have done. Including essays from Amiri Baraka, Robert Campbell, drummer Chris Cutler (Henry Cow, The Residents) and more, this is a obsessive collection of Sun Ra's musical journey, his philosophy and legacy. Included is as complete a discography of his works as can probably be collected, seeing as how the Arkestra put out reams of material, for various labels that has been reissued- under various names- by scores of companies. Full-color shots of Ra releases, including the extremely rare Saturn issues (an independent label run by the Arkestra featuring hand-drawn covers and often sold from their car after a show), Omniverse is a wealth of material for the fan, and is a key to understanding Ra's music.
I was fortunate to see Sun Ra and the Arkestra in 1989 at the Atlanta Jazz Festival, appearing with Miles Davis. The Arkestra came down the hillside in front of the stage, playing percussion instruments and chanting. Their set has been released on a bootleg entitled Astral Planes and New Moon Beams– which I can't find a copy of- and they ended the show doing their versions of Walt Disney songs such as "Whistle While You Work". It was crazy, unexpected, and at times breathtaking. Although it would be a few years before my ears came around to finding a place for Sun Ra, but now his visionary glimpse of something beyond jazz – and the Earth – is increasingly captivating.