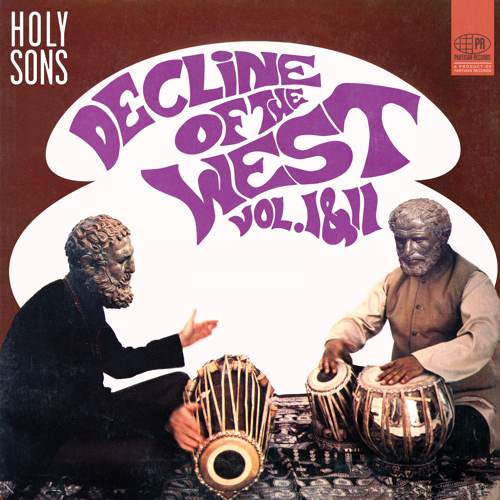 Holy Sons
Decline of the West Vol. I & II
Partisan Records
Ten years after its original release, Emil Amos (under the name Holy Sons) has expanded Decline of the West into a double LP, and if your tastes run to stoned, apocalyptic minimalist music, then you're in for a treat, because Vol. I & II is a minor masterpiece of low-fi folk (think early Beck), jagged, looped electric guitars and found bits of radio ranting that cast a paranoiac- yet strangely beautiful vision.
Amos is a multi-instrumentalist as a member of both Om and Grails, but this album is his alone, crafted over late evenings in his adopted home of Portland. This reissue adds seven songs from the original sessions, including some interesting cover choices. His version of Spirit's "Nature's Way" is even gloomier than the original, whereas his version of Joe South's "Down in the Boondocks" takes you a moment to recognize it as the same song, so artfully does Amos make it his own.
Sebadoh's "Level Anything" and the Circle Jerks "Beverly Hills" breathe in their sparse takes here, but the gift of Decline lays in Emil Amos divination of the world around him. From "Slave Mentality", "Bleakest Picture" or "Things You Do While Waiting For the Apocalypse", even the titles are harsh- and its a grim world that lives within these tracks. But for all the gloom, the songs themselves are not without some addictive allure that seems to follow the precedence of songwriters such as Roky Erickson or Skip Spence, whose 1969 solo album Oar is probably in Amos' collection. Decline of the West Vol. I & II is a welcome reissue, and sounds heavenly on vinyl. These are not songs for sunny days and bright futures, but rather the converse. It takes a skilled writer to summon such depths of emotion from the decrepitude around him, but Emil Amos is just such a writer. This is late-night, headphone music of the highest order.
---