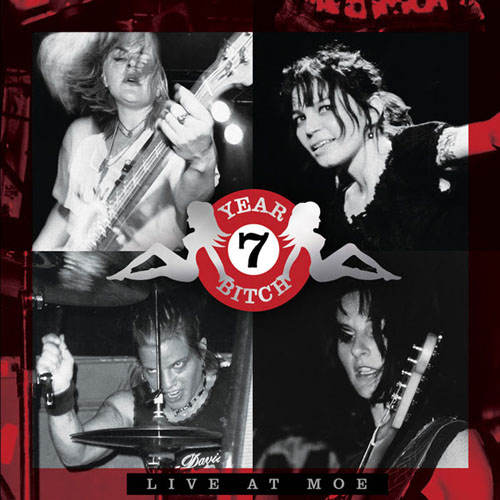 7 Year Bitch
Live at MOE
MOE Recordings
Listening to this 1996 live recording of 7 Year Bitch makes my insides itch with a kind of barely contained frustration. Frustration that there aren't more bands like this currently playing (with the exception of War on Women); frustration that the blink of an era when 7 Year Bitch, L7, Babes in Toyland and their ilk found a large audience in a time dominated by their male grunge counterparts has long since past; frustration that 7 Year Bitch haven't yet, like those aforementioned bands, reunited and hit the stages once again. Is this live album a litmus test to see if there is an audience for such a reunion? If it is, I will personally go out and buy a dozen copies to tip the scales in the favor of "YES, THERE IS!"
Not to dwell too much in the past – though we are talking about a moment in time recorded in 1996, so it's justified – but 7 Year Bitch were one of the greatest, and most underrated, punk bands of the '90s. Formed in 1990 in Seattle, the group's first show was opening for The Gits (if you don't know them, search 'em out – you're in for a treat!), and a close kinship soon developed between the band and Gits frontwoman Mia Zapata. Three years later Zapata was brutally raped and murdered, an event that buried a band already in mourning even deeper (a year earlier, 7 Year Bitch bassist Stefanie Sargent abruptly died at age 24).
The double punch of painful loss fueled the songwriting fire that culminated in the band's second (and, arguably, best) release 1994's . This was the record with "The Scratch," with "M.I.A.," with "Hip Like Junk" and with "Kiss My Ass Goodbye." Selene Vigil's vocals were erupting with fire and passion without resorting to the assumed screams and wails of the era, she sang with an enunciated urgency that begged you not just to hear the lyrics but to feel them in your bones.
What Live at Moe captures is the band at the absolute pinnacle of power. Enraged yet playful, furious but fun – the band plays to a local crowd (Club MOE in Seattle) with a vigor that translates not just through recorded tape, but through time. 2016 needs this kind of fire. 7 Year Bitch, I can assure you, you will have an audience should you decide to resurface.
Tracklist:
"24,900 Miles Per Hour"
"Crying Shame"
"M.I.A."
"Deep In The Heart"
"Hip Like Junk"
"Miss Understood"
"Rock A Bye"
"The Midst"
"Lorna"
"2nd Hand"
"The Scratch"
"Kiss My Ass Goodbye"
---