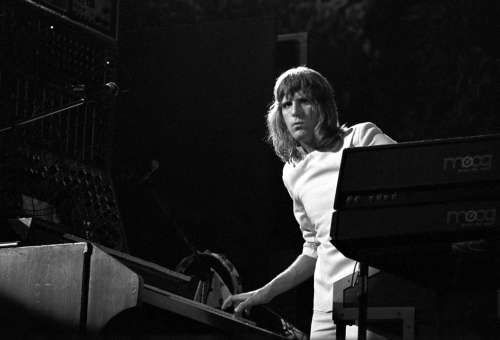 Keith Emerson, 1944 – 2016
by Gail Worley
Emerson, Lake & Palmer is one of those favorite bands from my youth that, like The Beatles or Queen, I can pretty much talk about forever. For all the overblown pomp and ceremony that defined 1970s Progressive Rock, few bands dished it out bigger or better than the "super group" trio known as ELP. Keith Emerson (formerly of The Nice) broke all the rules with his use of keyboards – organ in particular – in rock music, being responsible for greater keyboard innovation than any other musician of his ilk. Greg Lake, bassist and vocalist, had previously lent his impressive and wildly fluid voice to the first two King Crimson albums. On the drums, ELP had a percussive force of nature in Carl Palmer (formerly of the Crazy World of Arthur Brown). One of the first rock drummers to tackle a massive kit, Palmer surely influenced the showmanship of renowned players from Terry Bozzio to Tommy Lee. For a sizable chunk of the seventies, ELP enjoyed global popularity – and deservedly so. I was first introduced to ELP via their televised live performance from 1974's California Jam, and that performance changed my life. I'd never seen a rock band driven by a lead organist. I've not seen one since.
Keith Emerson passed away on March 10th in Santa Monica, California. He was 71 years old. Initial reports said the cause of death was unknown, but online news sources are now reporting that Emerson's girlfriend found him with a single gunshot to the head. According to TMZ, he'd reportedly been suffering from depression over a degenerative nerve issue in one hand that had sharply curtailed his ability to play. What a tragedy that he felt he had to leave us; because Keith Emerson made music that was entirely one of a kind. I'm sure I'm not the only one listening to ELP's records right now.
In the context of what's going on musically today, ELP's often-bombastic musical scenarios are undeniably identifiable with seventies Arena Rock excess, while their roots in classical composition allow them to remain oddly timeless, and therefore totally accessible. Arguably ELP's best-known song – or the song they are best-known for – "Karn Evil 9" takes its own little journey, as Greg Lake's post-apocalyptic carnival barker hawks the greatest sideshow "In Heaven, Hell or Earth" – promising "sights to make you drool" including Jesus conjured magically from a hat and "Rows of Bishop's Heads in Jars." Of course, when Lake declares, "You gotta see the show / It's Rock 'n' Roll!" he reminds his audience that ELP are basically singing about themselves. Come and See the Show, indeed.
If ever a band could be said to have written the soundtrack to The Church of Rock & Roll, ELP's music is akin to a religious experience: from Emerson's bone-chilling organ fugue of "Knife-Edge" to the trio's epic re-working of the traditional English hymn "Jerusalem." They were also the first band to successfully meld two seemingly disparate musical genres. As an interpreter of the classical tradition, Emerson's pop hook-laden keyboard arrangements made modern day classical compositions such as Aaron Copland's "Fanfare for the Common Man" and "Hoedown," and Argentine composer Alberto Ginastera's "Toccata" accessible to a rock audience.
But for all its musical sturm und drang, ELP weren't just about "blow[ing] your head apart." The group also recorded many of the most gorgeous ballads of the prog rock era. The baroque, arabesque flourishes of the transcendent, aching lament "C'est La Vie" and the lush acoustic guitar / hand percussion arrangements of the ridiculously romantic "From The Beginning" are a gazillion miles away thematically from the chaotic aural battleground of a piece like "Toccata." It's almost hard to believe the same band recorded these two songs.
ELP's particularly dynamic and versatile brand of progressive rock could not have existed without the mind, the magic and the madness of Keith Emerson. Godspeed. ◼
---