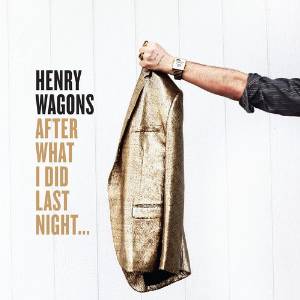 Henry Wagons
After What I Did Last Night…
Goldview
Melbourne, Australia is home to Henry Wagons, who is the head of Wagons, a decade-long country-rock band (they have country music down under? Who knew?) but for his first solo record, Henry came to Nashville to record After What I Did Last Night…, and it's a delicious slice of outlaw country, cry in your beer ballads and a hint of country noir. Starting off with "Cold Burger, Cold Fries" ("Yes it's all I deserve/After what I did last night/I'm eating my just desserts"), Wagon's tunes are a bit more raucous than the typical "pedal steel and heartbreak" offerings of the genre (leading Justin Townes Earle to describe Wagons as "Dr. Seuss meets Conway Twitty").
This is gritty stuff, such as "King Hit"- "I've been King Hit/On the back of head ah ha/I'm eating the dirt of the pavement" or "Only Sane Mother Fucker" ("Drive off the edge of the world tonight"), awash in regret and the outcome of bad choices. You know, the way country music USED to be, before it got all proper and American Idol-ized.
Now, Henry ain't all bad, with tender moments such as "Only Child" or "As Long As I Breathe", but for the most part, Henry Wagons comes out drinkin', bitchin' and apologizing on After What I Did Last Night, and its a rowdy, gleeful trip. Come back to Nashville anytime, Henry Wagons. It suits ya.
---