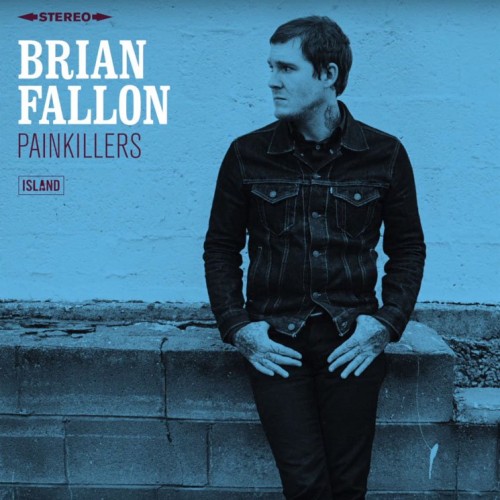 Brian Fallon
Painkillers
Island
Ya know how Morgan Freeman has the kind of warm hug voice, the kind you'd love to have read you to sleep at night? Brian Fallon's voice is nothing like that, his voice is the kind that could soundtrack nostalgic memories of your youth. There are voices that conjure images and color emotions. As Morgan Freeman gives a sense of comfort, Brian Fallon offers blue feelings of delicious heartache – the pain that hurts so bad that you wear it like a safety vest. Often, and rightly so, compared to Bruce Springsteen and Tom Petty, Fallon bleeds on the page and sings from his gut rather than his diaphragm. It can be scratchy and off key at times, but it's in these imperfections where truth can be found.
Painkillers is his first solo effort, but he's been writing and playing these kinds of songs for years as the frontman for The Gaslight Anthem. Songs about love, ache, loss, regret, and a sweet romanticizing of the past. Left on his own, and under the tutelage of producer Butch Walker, the songs are stripped back, but not so bare as to be the acoustic folk record you may expect. Fallon's crisp guitar melodies, that sound familiar even upon the first listen, are backed by a full band complete with backup singers, and the result is a sound that feels like it was unearthed from the sands of baseball fields, or scraped off the tires of classic cars parked at shiny roadside diners.
There's a maturity in the songcraft and, coupled with the pristine production, the resulting collection of songs is damn near perfect. Opening song "A Wonderful Life" is an upbeat, boot stomper with handclaps slipped in at the appropriate parts that holds the balance between the desire to live and the fear of failing. Sonically it doesn't stray far from Gaslight territory and that's reassuring because this is the field where Fallon plays strongest. Title track, "Painkillers" aches for "love like it was a drug" and thus the album's theme is revealed. What we want most is often what can hurt us the worst, and more often than not that thing is Love.
A song by song breakdown seems indulgent and unnecessary because what more can be said about heartfelt blue collar American rock 'n' roll that hasn't already been said? Except I will say this, "Steve McQueen" is one of the best songs Fallon has ever written, a soul baring cinematic campfire song that came from the same songwriting space as a couple of my favorite Gaslight songs, "Here's Lookin' At You Kid" and "Blue Jeans & White T-Shirts."
Music like this sounds so simple, yet it's so hard to do right. Fallon makes it look easy.
---