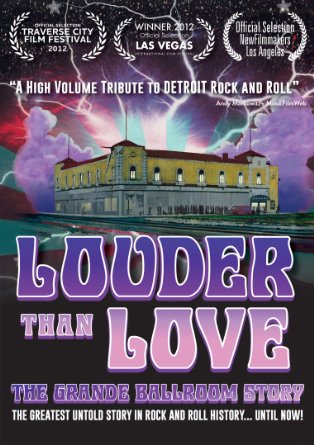 Louder Than Love – The Grande Ballroom Story
directed by Tony D'Annunzio
starring Wayne Kramer, Alice Cooper, John Sinclair, Ted Nugent, Russ Gibb
MVD Entertainment Group
Growing up in Michigan in the 1970s, the Grande Ballroom was a mythical place. Everyone knew a story of someone's older brother or sister or cousin or cool uncle who saw some legendary rock band at the Grande. In magazines like Rolling Stone or Creem, the writers always seemed to go on and on about the gigs at San Francisco's Fillmore Ballroom. In the Midwest, the Grande was the place of rock and roll dreams.
Louder Than Love does a good job of filling in the details of the Grande Story. The building was originally built in the 1920s as a dancehall for the jazz age. It was used as a mattress warehouse for decades until a high school teacher named Russ Gibb got inspired on a trip to San Francisco. Remembering his parents reminiscing about the good old days at the Grande, he searched out the old dancehall and brought it back to life.
Gibbs enlisted some other folks to help bring the Grande Ballroom into the thick of the hippy art and rock scene. Uber hipster, John Sinclair (of the White Panthers Party and spiritual guide of the MC5) was instrumental in bringing the business minded Gibbs in touch with the arts and music scene. The hall became a part of rock lore as the place where the MC5 were the house band. The Grande was the launch pad for Michigan bands like the Stooges, the Alice Cooper Band, and The Amboy Dukes (Ted Nugent's early claim to fame). All the major touring acts played the Grande. B.B. King says in the documentary that playing the Grande Ballroom was the first place he really felt accepted by a white audience. The Who chose to debut (the unreleased project) Tommy at the Grande.
Louder Than Love is a bit over-long. There are a lot of cool stories told by survivors of the '60s. Its kind of fun hearing James Williamson (Stooges), Wayne Kramer (MC5) and others telling tales of rock and roll debauchery. (The MC5 guys had mattresses stashed in the catwalks and under the stage for quick groupie action). As a writer, I can appreciate wanting to use all the good quotes you get, but you really need to use them to serve your narrative. Louder Than Love could have made their point better with maybe one or two folks expounding on how hard problems make for hard music. The film lets a dozen or more people make the same points over and over. It gets a little tedious after awhile. That's what DVD extras are for.
The Grande had a short run. By the early 70's, the bloom was off the hippy bud, John Sinclair was in jail and the MC5 were a memory. The Grande Ballroom is an empty shell now. Louder Than Love fleshes out those stories I heard as a teenager and ensures that the legacy of those crazy days is not forgotten.
---