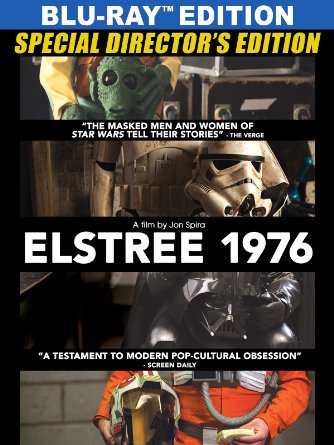 Elstree 1976
directed by Jon Spira
Mark Austin, Laurie Goodie, and Paul Blake
British Film Company, The Works
You would never guess it from the title but this is a Star Wars documentary. That ground-breaking movie was filmed partially in Elstree studios near London, and many of the stormtroopers, cantina patrons and minor players came for London casting calls. We meet a half dozen; Mark Austin played Boba Fett, stormtrooper Laurie Goodie name is famous for hitting his head on the set, Paul Blake played Greedo and offers his opinion on who shot first in the cantina. All of these people have stories, but are any of them compelling enough to spend an hour and half with? It's a tough call.
There's a mix of bitterness and enthusiasm here, some actors went on to moderate success in British television, many ended up in jobs far removed from the arts, and really lucky ones have their own action figures in a bubble-packed store card. Now some are retired or working minor roles, and others work the convention circuit selling autographs. A debate arises: if you're not credited but show up in a key scene, does that give you the right to work the convention circuit? Answering that toughie is like breaking up a pit bull fight. I loved these people; they went to work assuming this was another made for TV sci-fi potboiler, and they lucked into one of the biggest movies of all time. Of course, they all got scale, and it was just a job, but they did what they were told and did it well. Possibly the saddest story is David Prowse. He played Darth Vader but had his voice dubbed by James Earl Jones. Prowse got the credit, Jones didn't need one, and now Prowse finds himself banned from some conversions for what might be considered political reasons. If you don't have a credit, you're just not one of the cool kids.
The coolest stuff here are the old production shots: the Millennium Falcon in a warehouse, storm troopers hanging out, light sabre rehearsals, and we even meet the guy who said "These are not the droids we are looking for." But now that it's a worldwide phenomenon these actors mostly seem disappointed they haven't been able to reap the easy rewards. Check this out if you are so into the films you already knew these names; if not, there are better Star Wars docs out in that big old Empire.
---