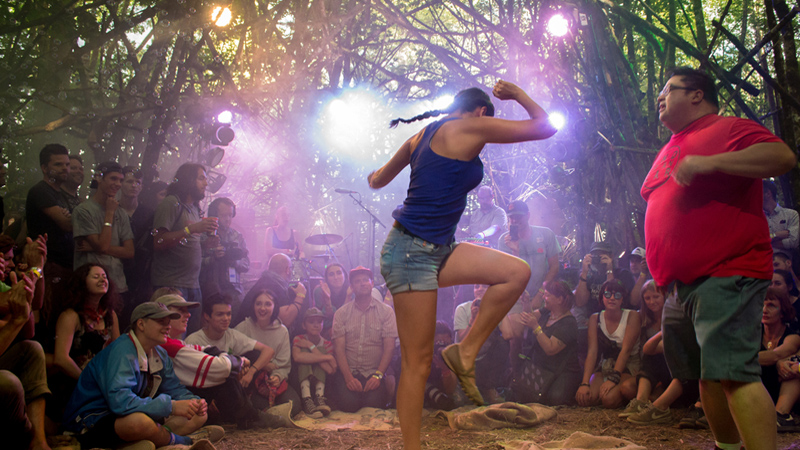 Pickathon 2016
Happy Valley, OR • August 5th-7th, 2016
by Alexa Harris
Driving up the small winding roads to Pendarvis Farm, one would never expect that this residential, suburban countryside area would be home to what is likely one of the best music festivals in the country. Pickathon is the 3-day music festival of your wildest indie-music loving dreams, taking place right outside of Portland in the quiet little town of Happy Valley, Oregon. The term 'Music Festival' brings to mind a mix of both positive and negative associations – fun, exhausting, great music, crowded, friendly people, slightly disgusting. However, Pickathon is different. The festival has somehow managed to do away with most of the music festival negatives leaving a whole lot to be positive about.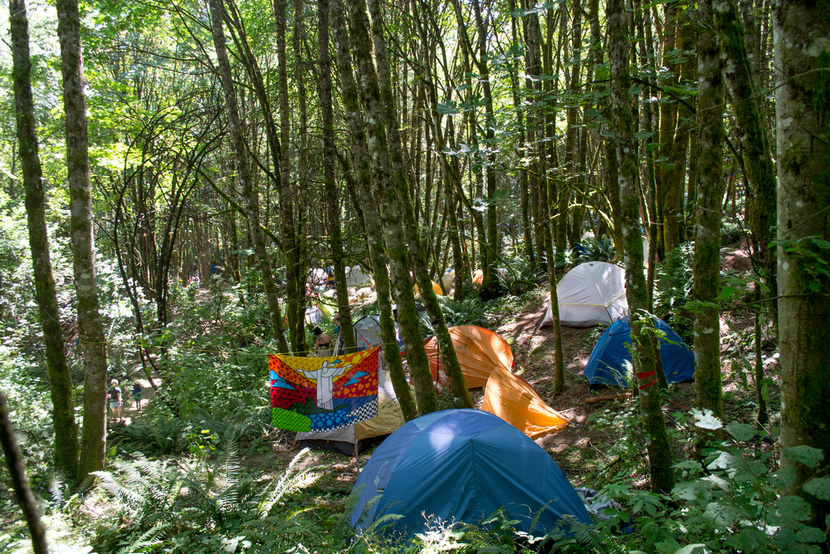 The lineup was packed full of talented, cult-favorite musicians with very little 'fluff,' so to speak – all dedicated to the cause of having 'no waste' (everything was reusable). The crowds were a comfortable size, and the campsites – located among actual trees – are hard to beat. The atmosphere was laid back and peaceful, and attracted all walks of life, proving that music festivals can appeal to more than just college kids and hardcore hippies.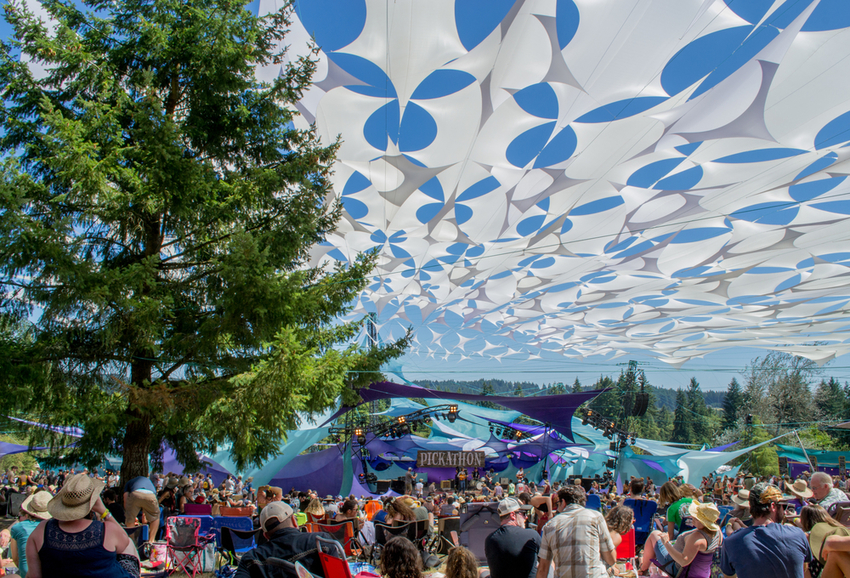 The grounds include four outdoor stages and two, appropriately for a farm, inside barns. One could easily forget that Pendarvis Farm is actually a farm until you wander through the lovely, though unfortunately small, Galaxy Barn only to find yourself face to face with a few horses casually munching on some hay. The outdoor stages, while not housing any farm animals, had their own quirks. The central, main stage, the Mt. Hood Stage, had its namesake landmark as its backdrop. White fabric diamonds stretched across the sky in front of it, giving the area a groovy look as well as some much-appreciated shade. My personal favorite stage, the Woods Stage, was a bit further removed from the main grounds, nestled in the forest over by the campsites. The stage (and it's surrounding structures) we're fashioned out of branches and twigs, forming a structure more reminiscent of a giant bowerbird nest than a traditional stage. Here, festival-goers could enjoy a more intimate set in a smaller setting than the other outdoor stages.
One of the best, and most unique aspects, of Pickathon is that every act on the lineup performed at least two sets over the weekend (with the notable exception of Beach House). This genius setup helped solve the age-old problem that plagues music festivals everywhere – scheduling conflicts. No longer did I have to make the fateful choice between two beloved bands, instead I only had to choose which one to see first.
Here's the breakdown of all the performers I saw over the weekend: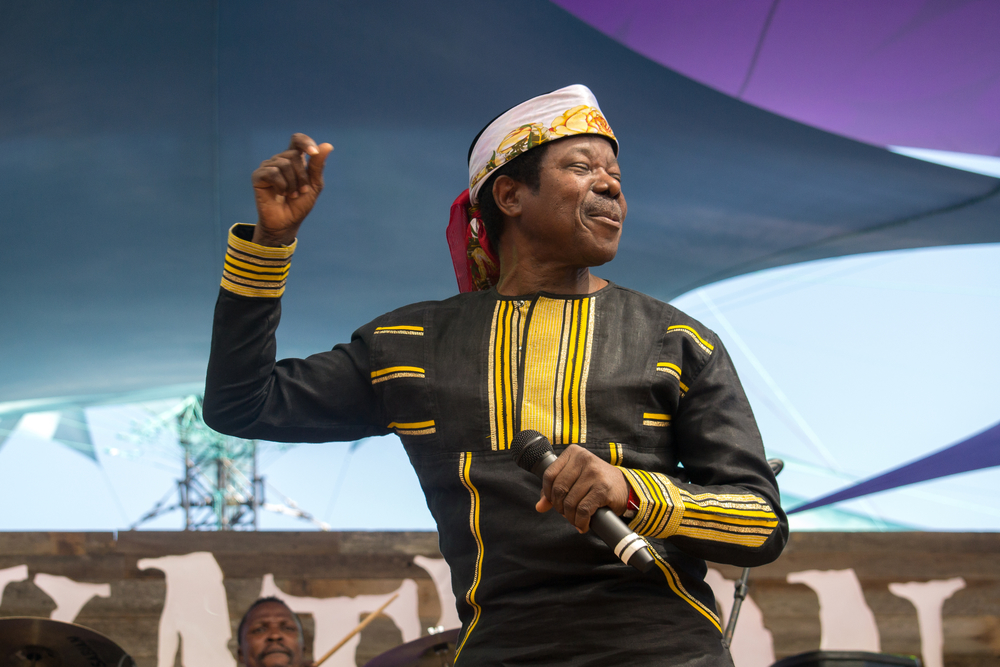 King Sunny Ade and his band beamed bright over the crowd with their intensely joyful tunes. The neatly 70-year-old Nigerian music legend performed with an infectious fervor that made it nearly impossible not to smile and dance along with him.
The Woods Stage served as the perfect setting for the ambient and beautifully haunting music of Patrick Watson. The scattered light and fog created the perfect atmosphere to sit around, among friends and strangers, in the woods and simply feel. To just sit and relax and let the music wash over me in slow, soft waves gave me chills.
Mac Demarco gave on of his signature performances on the main stage. As always, it was fun, involving lots of mucking about between him and his equally hilarious and charming band mates and jamming out hard. However, his second set was particularly memorable as it was clear they were going off from the standard touring set. They were able to spend more time talking to the crowd, and each other. They talked about the need to switch up the set a bit for the second show for the fans coming out for a second time, and played some older songs not typically played these days on tour, such as "Rock and Roll Nightclub."
Wolf Parade shreds. Simply put. The bands energetic performance was a triumphant and intense comeback. The crowd was more than ready to rock out and mosh all night to old favorites like "I'll Believe in Anything." Back from hiatus and better than ever, Wolf Parade's wild, high-energy show is one that is not to be missed, one that you need to go get into the pit and get tossed around for.
Yo La Tengo is undeniably an incredible group of insanely talented musicians. Getting to hear them play is always a treat. This time 'round, what stuck with me the most from their performance was a cover of "Friday I'm in Love" by the Cure. I feel like seeing Yo La Tengo is like paying pilgrimage to the indie rock world, an almost holy experience and right of passage. Simply put, they're legends and they live up that. Ultimate Painting made a serious splash on the main stage. The British Indie-Rock band set the perfect mood for Saturday afternoon. With their pleasant harmonies and smooth rhythm guitar they create a dreamy-chill atmosphere perfect for kicking back and laying out on grass on a nice sunny day. Also I found it kind of charming that one of the band-mates performed sans shoes, it was just so fitting somehow.
C.W Stoneking is a strange one. My friends and I joked that his music and look best matched the descriptor "New Orleans Vampire." The Australian blues singer-songwriter has a truly old-time sound, specially his sound is resembles most closely that of early 20th century blues, of classic musicians like Robert Johnson. His music has the heart of old southern blues, and yet C.W. Stoneking is a middle aged man from Australia. He seems to be of another time and place long gone, hence our suspicions of him being a 'New Orleans Vampire'.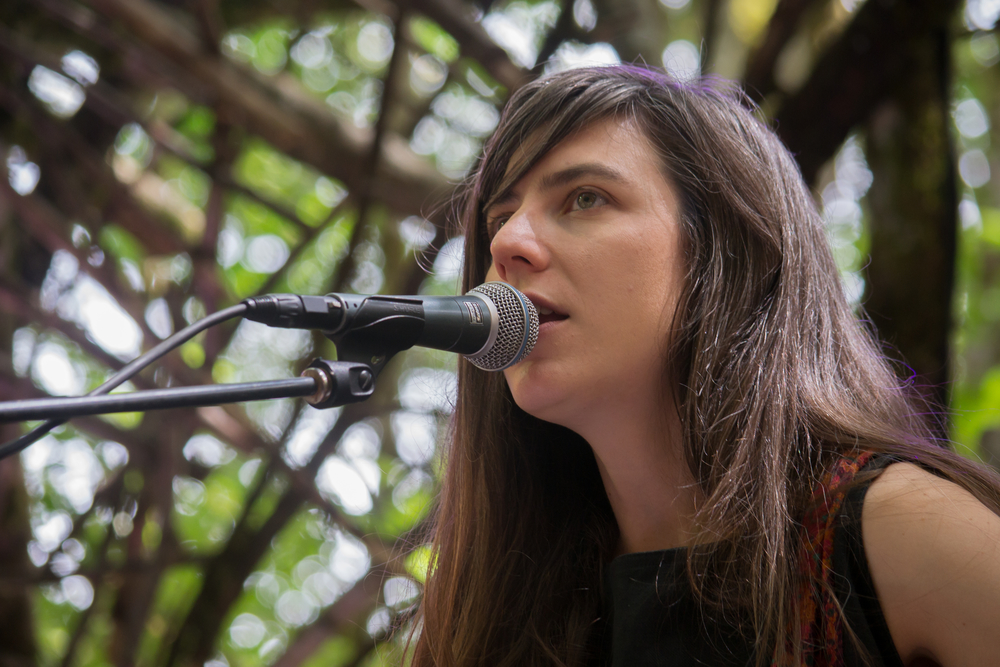 Seeing Julia Holter felt like being in the presence of some beautiful, ethereal being. With dreamy melodies and rousing choruses complete with a multi-instrumental backing band, and the pureness of her voice swept the crowd at the Woods Stage away into her fantastical world. Her soft, psychedelic sound reminiscent of The Beach Boys Pet Sounds envelops you in its warmth and you feel every aspect of the music as it hits you, acutely and sweetly.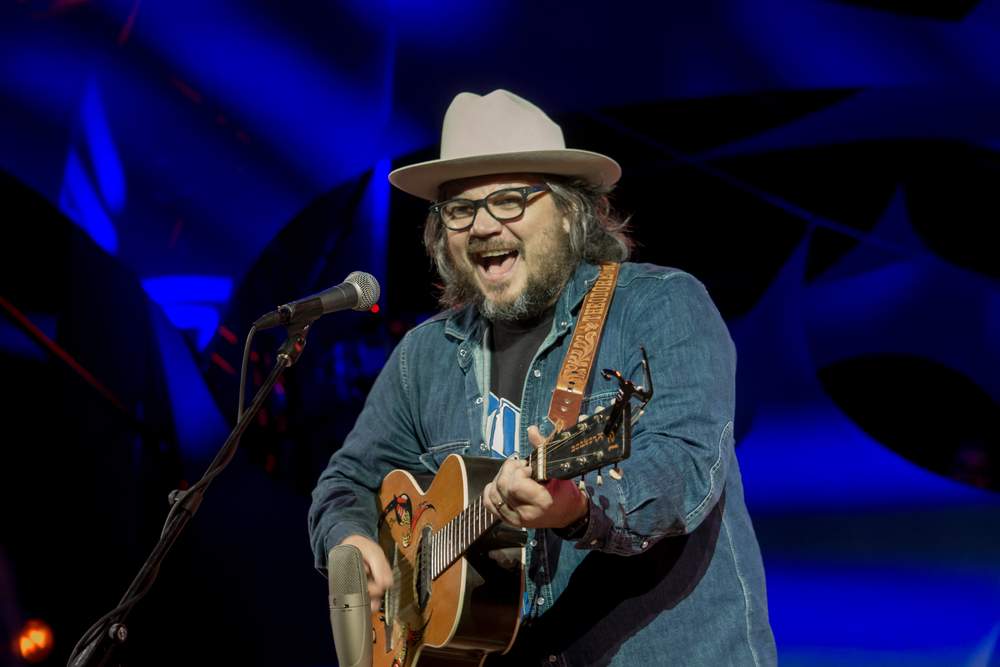 Jeff Tweedy, also known as the leading man from Wilco, was one of the main highlights of the weekend. Taking stage solo with only an acoustic guitar, it was an absolutely incredible, yet simple show. The crowd sang along with him to almost every song, and at the close of each one there was thunderous applause. He spent a decent amount of time just talking to the audience too, cracking jokes like "I'm the best guitar player, everyone says so" playing off of Donald Trump's classic rhetoric, as well as having honest and tender moments such as him talking about his wife, as it happened to be their anniversary. I've rarely been at a show where such a large group of people was so fully invested and truly loving every moment. The show really was an extremely special experience for everyone in attendance.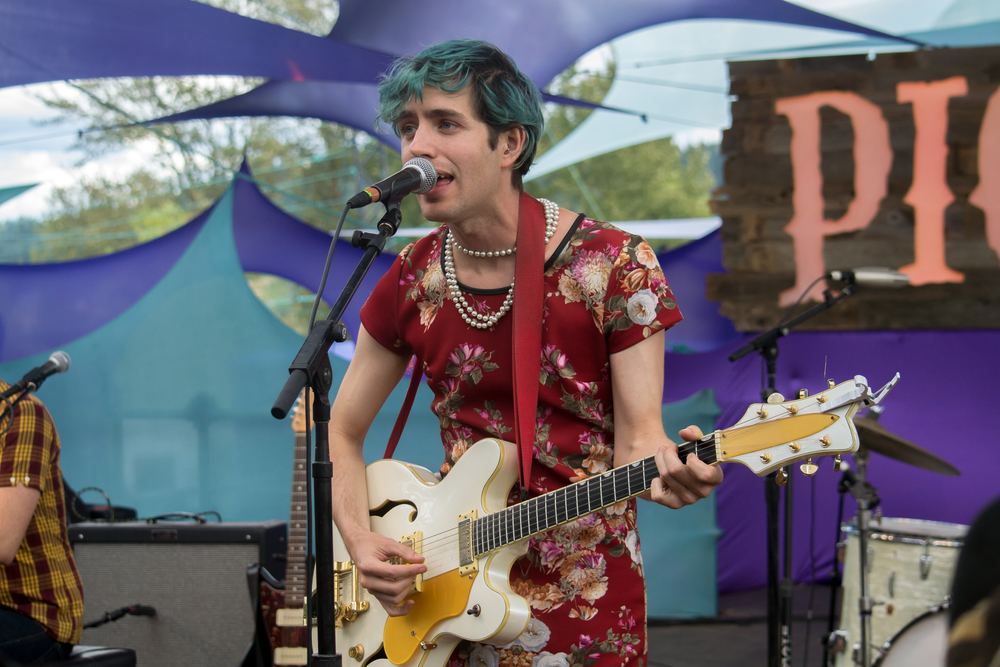 Ezra Furman brought great energy to the main stage Sunday afternoon. Ezra is a wonder to behold, a person that proudly and boldly defies gender norms and demands attention and respect. Dressed in a fine wine-red floral dress and pearls with a mop of blue hair to boot, they proceeded to shred like nobody's business. They're truly the classiest of punks. Their songs seem to genre-hop, drawing on all different sounds, good ol' fashioned rock and roll guitar, blues-y horn sections, punk lyrics, and upbeat pop melodies. Ezra puts on a fun, exciting, and overall great show.
Dan Deacon took me three tries to see. His first two performances taking place in the tiny venues of the Lucky Barn and Galaxy Barn we're packed full long before the show even started and lines of people to get in wrapped all around it. Finally able to make it to the third show at the Woods stage, let me tell you, the hype is worth it. Dan Deacon is the kind of show that is required attendance.
No matter what you have going on, if Dan Deacon comes to your town, you have to go. Period. The show is unlike any other I have ever been to. It's not only about the music, which is even better than you could imagine listening to his records, it's about the experience and the energy. He is an absolute master of working the crowd as well as working with the crowd. He takes audience interaction to the next level. Between staging dance offs and endless high-fives and tunnels of people wrapping around the venue, there's truly nothing like it. He also gets people fired up by going on rants about politics, consumerism, and other equally intense topics, swinging the crowds energy back and forth between incredible fun, an escape from the real world, and right on back into the darkest depth of what it means to be human and be living in this world we are in today. It's a strange, surreal, and fun as hell show and there's truly no words or pictures that can fully capture the experience.
Everyone I knew who had seen them before told me that seeing Beach House was an essentially life changing experience. The Baltimore dream-pop duo did not disappoint – both long-time fans and people who had never heard of them before we're thoroughly impressed by the performance. Despite the thick veil of fog and darkness that left much to be imagined, the ethereal guitar melodies and sweetness of Victoria Legrad's voice swept away the audience into an otherworldly, beautiful realm.
Thao & The Get Down Stay Down gave an extremely powerful performance Sunday night in the galaxy barn. Mostly performing songs from the band's latest intensely personal album "A Man Alive," which tackles heavy topics based on lead singer Thao Nguyen's own life, the show felt like a catharsis. With a crowd of true die-hard fans (who had to be willing to get there early in order to get into the show at all), many sang all the words along with Thao. The energy release from both the band and the crowd was almost palpable and, for me, was the perfect way to end the weekend. ◼
---