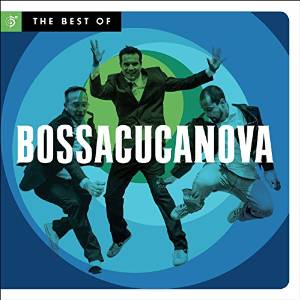 Bossacucanova
The Best of Bossacucanova
Six Degrees Records
I get a lot of records to review, and call me old-school, but generally if I see anything remotely like "beats" or "programming" on the back cover, I'll skip it. So this new collection from Bossacucanova about went into the recycle pile, but hey, I love bossa nova and samba, and the songs on here are by such Brazilian luminaries as Baden Powell, Jorge Ben and Tom and Antonio Jobim, so I gave it a shot.
Well, shut my "get off my lawn" mouth, but this thing is great! Turns out Bossacucanova- Alex Moreira, DJ Marcelinho and Marcio Menescal (son of bossa nova legend Roberto Menescal, who appears on this disc) have brought bossa into the modern age, infusing the slinky rhythms of the popular South American music with a strong groove and modern touches, but never forgetting the supreme coolness that is at the heart of bossa nova.
From "Meditacao", featuring guitarist Wanda Sa, or "Berimbau" featuring the sampled voices of '40s vocal group Os Cariocas, this record defines "chill". It's bossa, no doubt, but with understated electronics and a healthy dose of Latin jazz, this is one of those records you can leave on endless repeat, because like the classic Brazilian music of the '60s, it never overwhelms, but rather adds that certain something to your mood. The group has seven previous records (of which this is a collection of), so if it tickles your ears, you'll have lots to explore. Guess you can teach an old dog a new trick…if it involves bossa!
---