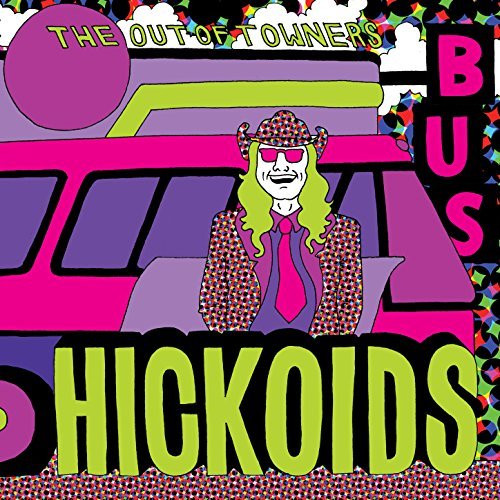 Hickoids
The Out of Towners
Saustex
The Hickoids have been a fixture on the Texas punk – excuse me, cowpunk scene since the '80s, and guitarist Davy Jones was a big reason why. Famous for his psychedelically painted Les Paul and furious chops, Jones sadly died from cancer in 2014. The Out of Towners serves as a fond (and exceedingly rockin') tribute to the three-time Austin Music Hall of Famer (with The Dicks in 2009, The Hickoids in 2014, and on his own in 2016), with some of his last recordings.
This mini-lp shows the range of the Texas outlaws, starting with Roky Erickson's "I Have Always Been Here" (with some primo, honking sax) and serving up five other slices of Texas artists including Terry Allen ("I Just Left Myself Today"), Willie Nelson with "Night Life" and "Dead in a Motel Room" by The Dicks. The record ends with two nods to the funky aura of Doug Sahm and crew, with Sahm's "At the Crossroads" and a heartfelt take on Rich Minus' "Cans", which seems tailor-made for Jones and the Hickoids ambling style.
Every city has at least one beloved local musician that embodies the true heart of a scene, and Davy Jones was, to many, Austin's. From the Hickoids and the Dicks, to lesser-known acts such as the Gay Sportscasters, Jones plied his trade out of the limelight, but what a sound he made. If you're unfamiliar, give The Out of Towners a spin and let the guy in the ugly hat, thrift store coat and the eye-opening guitar make you smile. I guarantee he will.
---