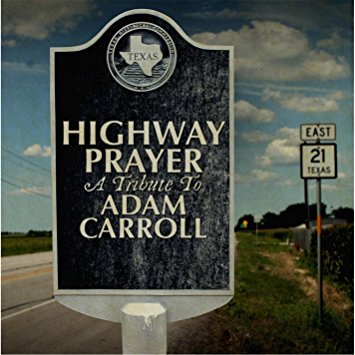 Various Artists
Highway Prayer: A Tribute to Adam Carroll
Eight 30 Records
Generally tribute records are done in two cases. First, it's because the artist featured is so popular that any record with their name on it is a cash cow. Or it's because the performer is ill, and thanks to our predatory "health care" system, is flat broke with no insurance. Tyler, Texas songwriter Adam Carroll is neither. (Although he mentioned in a 2014 interview that he has a mild case of cerebral palsy, this tribute doesn't bring that up).
I listen to a lot of stuff like this, and I had only vaguely heard of Carroll, but thanks to Highway Prayer that situation has been remedied. There's something in the water in Texas that makes songwriters into poets (Guy Clark, Townes Van Zandt, etc), and Carroll is no exception. Take the lines from the opener, "Screen Door" (performed here by James McMurtry, himself no slouch in the songwriting department):
"Lookin' out the screen door through the smoke into your eyes/You're smilin' through the screen door/It's worth ten thousand goodbyes"
Carroll, like Kristofferson or John Prine, can set a stage in only a few lines, with poignant asides to the human condition, such as on "Lil' Runaway" performed by Verlon Thompson:
"The fisherman cast their nets, they look like spider webs/Reflectin' on the water by the bay/In the back of an El Camino you were staying in/My little runaway".
That's some vivid writing, and he's got loads more on his several studio albums, and they all are a mixture of pathos and humor, self-deprecation and struggle, hope and heart. The artists that contributed here- from Hayes Carll ("Girl With The Dirty Hair"), Terri Hendrix with "Red Bandana Blues" or the Band of Heathens with a funky "Oklahoma Gypsy Shuffler" all did it so that the rest of us could experience the true craft and artistry of Adam Carroll. Thank you folks, much obliged. Talent this great is a rare, rare thing. But thanks to Highway Prayer hearing it won't be.
---