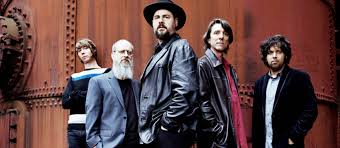 The Cursed Year In Review
by James Mann
No beating around the bush, 2016 blew. From the legends we lost to the horror of the election, the world seems to be living thru a curse that doesn't seem to be letting up soon. But rather than documenting all we've lost, lets look at what sustained us during these troubled times.
Every year end list of releases has a similar feel to it, namely, the swan songs of two amazing artists. Most everyone puts David Bowie's Blackstar and Leonard Cohen's You Want It Darker at the top, for good reason. Both albums were created by people on the verge of dying, and both are brave, evocative testaments that contain not a drop of pity. Blackstar will be, as with most of Bowie's work, a constant work of art, from the thoughts contained within to the actual vinyl of the LP, which holds hidden messages. Classic Bowie.
Leonard Cohen never minced words, never tried to shield the blow (give a listen to his album The Future – he warned us of Trump years ago- I've seen the future/And it is murder) and You Want It Darker is a chilling statement from a man with one foot in the ground, looking back at us. The title cut, with Cohen's dark vocal is haunting, and as always, he paints a minimalist soundscape that only heightens the tension.
But for me, the album of the year is the Drive-By Truckers American Band. I first ran across DBT in 1996 at the tiny Star Bar in Atlanta, a few years before their first album, 1998's Gangstabilly. You couldn't help but fall in love with them, from "18 Wheels of Love" with the chorus of "Mama ran off with a trucker/Peterbilt, Peterbilt" or their ode to Slick Willie Clinton on "The President's Penis Is Missing". Over the years they have continued to push the envelope, examining the world around them as Southerners, with both pride and disgust in equal measure (that duality of the southern thing, as frontman Patterson Hood tells it on their Southern Rock Opera from 2001, which is a stone-cold masterpiece, btw). They are also are responsible for the beginning of Jason Isbell's career- although they had to fire him to make it happen.
But the reason that American Band resonates so strongly with me is that I finally have protest music. I was too young to chant along with Country Joe's "I Feel Like I'm Fixin' To Die" against the Vietnam war, and I never really got into the hardcore punk that the Reagan years gave us, but when I first heard "What It Means", their song about Black Lives Matter, it clicked. Once I got the album I was blown away. It may well be their finest hour, from the angry anti-NRA rant of "Ramon Casiano" to the rallying cry of "Surrender Under Protest" and the weary, hear we go again of "Once They Banned Imagine", this is loud rock and roll with a fucking purpose. And the fact that some longtime fans were appalled that they had a opinion that might be contrary to backwood rednecks in the South, well hell, that's just icing on the cake. Because if 2016 has shown us anything, there is no neutrality anymore, no hiding out. Easy times make easy music. And easy music is nice and all, but it ain't gonna change the world. And probably the Drive-By Truckers and American Band won't either. But by-damn-god they're gonna try.
Will you? ◼
---