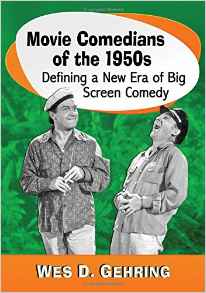 Movie Comedians of the 1950s: Defining the New Era of Big Screen
by Wes D. Gehring
McFarland
A few months ago, I covered a book on Charlie Chaplin's career by author Wes Gehring. When this recent tome concluding his trilogy of 20th century comedies arrived, I took the time to look up the author's bibliography and was impressed by the multipage list of titles he's already produced. I'm not saying this guy is obsessive about film, but this guy is obsessive about film. In this thorough and academic volume, Gehring explores a dozen critical comedies of the 1950s. Here's the decade where postwar America solidified its conservative approach to sex, where the small screen of Television began its attack on the big screen of Hollywood, and when the paranoia of Eugene McCarthy worked hard to destroy the careers of anyone who did not tow his line. This was also a time that saw the remaining Vaudeville performers either retire or retool.
I can't discuss every film here, so I'll pick two starting with Sailor, Beware with Martin and Lewis. We discover Jerry Lewis and Dean Martin were the hottest comics of the post war era; Lewis initially saw Martin as his accepting older brother while Marin preferred to womanize and drink. As the pair moved into film, they had enormous hits even as their teaming fell apart: Lewis decided he was the reincarnation of the still living Charlie Chaplin, and let everyone know. Gehring examines each comic sequence in the film, connects it to earlier work by Chaplin and Laurel and Hardy, and dissects the shifts between Martin and Lewis and director Hal Walker built this now unremembered hit comedy. Gehring reads and quotes numerous contemporary reviews, interviews and external appearances by the pair, and extensive foot notes lead you back to the source material. But on a higher level, what Gehring is really dissecting is American middle brow culture. This includes our inconsistent views of sex, women, and all the existential threats the world throws at us.
A more touching story investigation explores the career of comedian Red Skelton as reveled in The Clown. Skelton was the quintessential Vaudeville star, and when he tried the movies, he was quickly upstaged by the rising Esther Williams. He then looked to the small screen, and TV was glad to have him. His material was clean and well-rehearsed, and he was almost as big a hit as Milton Berle. Skelton was also on the radio, and these were two national media that demanded huge amounts of material. In one season, he essential ran all his "A" and "B" material and was left with a gaping hole of no new comedy for his adoring fans. Only a long term contract that the networks honored kept him alive and on the air. In this chapter Gehrig clearly and in detail shows how these three media competed for American eyes, ears and advertising dollars, and how the talent balanced these forces while minding their own futures. As readers, we come out with a better view of the monetary realities of the star system. We all assume movies stars are fabulously wealthy, but drugs, divorces and drinking all bleed off that surplus, as does a need to maintain appearances, lest your gentile poverty be your downfall.
This is a book for the serious student of film and mid-century culture. There is insight, analysis and enough horror stories to keep you intrigued, and if you have a mind to see the films discussed in the book, most of them are on the internet in all the usual places. I recall some of them as TV filler in the 1960s. I can't promise what was a hit in 1955 will even be watchable in this new century, but these are our entertainment roots, and you might enjoy the museum tour.
---