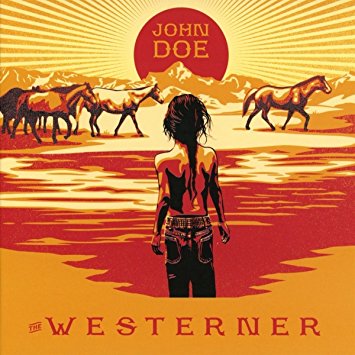 John Doe
The Westerner
Cool Rock Records / Thirty Tigers
Punk's fine when you're eighteen and full of piss and vinegar, but by the time you're 60 something you might think about moving to slow country or a touch of the blues. John Doe plays bass for that critical L.A. band "X" and once married the lead singer. But that was back in 1980 and now he's one of the big proponents of Roots Rock, a return to the ballads, steel guitars, and a story songs that aim to pour loss and lament over the old scars of punk anger. That's what happens when you don't quite change the world.
There's just ten tracks here but they all merit attention and analysis. I'll walk you through a pair, then let you take the wheel. "My Darling, Blue Skies" puts Doe's plaintive voice under stress with "something is ticking, something's gonna blow." It's not the bomb of terrorism, but an explosion of emotion that might rip his life apart as his sweetheart heads off to points unknown. It's along painful process with time cut and sliced into months and microseconds as his soaring vocals echo Jim Morrison's lost voice. Something is wrong but the fault is unassigned. Odd rhythmic taps from the drum kit add menace, and we find no resolution. It's country, but a bit post-modern.
Down in the bowels of "Sunlight" we hear something sad about youth. A misplaced child loses his mother and ends up lost with older male relatives. The story is universal; his pain wouldn't die in the military, on the road, or in booze. His desires are simple but unobtainable and so are yours, I'll wager. Doe plays a precise and proud guitar line, his vocals are clear and soothing and what's left as you trip into the next track is a story song with just an outline. Here you can paste your own Polaroids into the song and find a cold sympathy. John Doe's career might be modest but it's powerful, he's a clear voice of what music can be with the fads of the day stripped away.
---